Ultra HGF Youth Serum
with Pure Seaweed Extract
+BrandBacker Team
+SOBO Skin Care
 #TrySOBO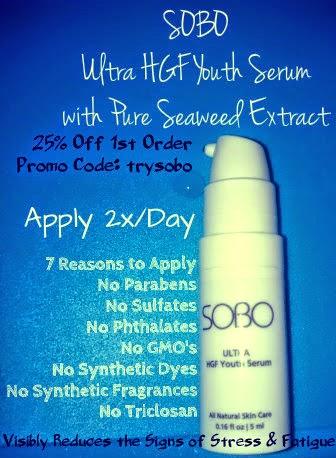 Visit SOBO's Website     
Like on 
Facebook
Follow on
Twitter
I 
received
 a sample of SOBO's 
ULTRA HGF Youth Serum

 from
Brand Backer
 and 
SOBO Skin
Care

. 
I'm now entering my mid-20's, so anti-aging skin care products have been on my mind lately. I have noticed small lines on my forehead, but I still feel 21 and not 27. So when SOBO Skin Care ran a BrandBacker campaign, I had the chance to try out one of their serums to review, I was excited I was chosen.
I enjoyed using this product as some of the serums I have used in the past had distinctive smells and this was truly odorless. It quickly absorbed and did not feel heavy or sticky. I could see an instant results of an overall better smoothness, not only to the touch, but the look of my face was softer. Another great feature is they do not perform animal testing. This makes me such a cheerleader for SOBO. 
Top 8 Reasons SOBO ULTRA HGF Youth Serumis a must have for your skin.
Lots of No's!!!

No Parabens

No Sulfates

No Phthalates

No GMO's

No Synthetic Dyes

No Synthetic Fragrances

No Triclosan

No Animal Testing

Odorless

Great for All Skin Types

Visibly Reduces the Signs of Stress and Fatigue

Easy to Apply Twice a Day

Try It with 25% off 

first

 order with promo code: TRYSOBO 

30 Day Money Back Guarantee
About SOBO:
"SOBO Skin Care was built on a clear philosophy of what should (and shouldn't) be in quality skin care products. Our primary focus has always been to formulate cleansers, toners, creams and serums that are made with as many natural organic ingredients as possible, but without compromising the efficacy that women expect. To accomplish this we combine wonderful organic ingredients like orange flower extract, hops and strawberry oil with others proven to provide visible results like hyaluronic acid, human growth factor and ceramide 3 to effectively and gently rejuvenate skin.
SOBO is dedicated to setting a new gold standard in the years to come for indie skin care products of all types. Natural, wholesome, honest, and effective -- that's the SOBO value system in a nutshell."
About 
Ultra HGF Youth Serum
"
This innovative youth formula leverages the power of proven acetyl tetrapeptide-2 to help restore your skin to its former glory and help prevent signs of future aging. Skin's critical immune functions are also boosted while the production of healthy, youthful skin cells is uniquely supported and accelerated. Light but potent formula also moisturizes dry skin and smooths for a glowing, velvety appearance.
"
Other Great Products

Ultra Age Repairing Cream with Resveratrol
Age Smoothing Eye Serum
Essential Moisturizing Cream
Coupon



**

To receive 25% Off your first purchase, with promo code, TRYSOBO.


**This discount code does not expire and applies to entire first purchase. It is not valid in combination with other coupons.