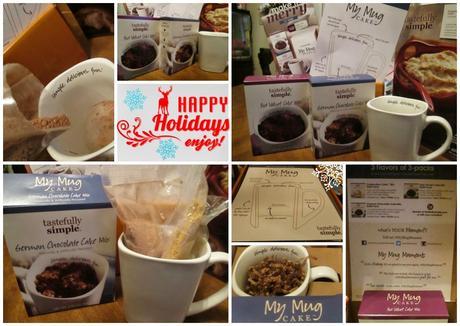 My Mug Cake Gift Set

$19.95 Order Now

Visit on

Facebook
I have a bit of a sweet tooth!!! With the My Mug Cake Gift Set I can enjoy a mug of cake and not have to bake the whole cake. It is seriously the easiest cake I have ever had to make. The yummiest one as well.
I was so lucky to get to try the My Mug Cake™ Fall-Winter 2014. It was so easy to make and you don't have to use the oven or worry about bake time. It comes with everything you need to make it. You just have to have a microwave and water.
Fill the mug to the line with water ( 3 tablespoons), put the packet in, stir and microwave for 1 minute, then enjoy. The gift set comes with two cake mixes. I had German Chocolate Cake and Red Velvet. They are both delicious and come out perfect. Another great thing about have the indiviual mug cakes it that you can make two different cakes to make the special people in your life happy, as well as yourself. You don't have to commit to long hours in the kitchen and I also love that you can add ice cream and other things to add to change them up some.
Other great My Mug Cake products
Celebration Cake Gift Set Fall-Winter 2014
Restock your Mixes
Celebration Cake
German Chocolate Cake
Red Velvet Cake
Read more about Bridgette and why she would love to share Tastefully Simple with you and your family.
While you are there please check out the great deals on hosting a party and sign up for the monthly newsletter that will notify of great new products and specials.
Cake Cravings fixed in a flash. The easy to use My Mug Cake from Tastefully Simple is one of the best gifts for everyone.
Tastefully Simple with Bridgett Website  
Facebook
Want More??
Check out these great recipes and submit your own here. My favorite is the made with the Red Velvet Cake mix and is called 
Red Cherry Cola Mug Cake Hello Holiday Favorites!!!
Disclosure: Tastefully Simple provided products for this Review & Giveaway. I was not financially compensated and all opinions are my own.