I'm continually wow'd by the Soap & Glory line. I've reviewed a few of their products on this site. I adore the brand's gutsy marketing and packaging. And, most importantly, the products deliver.
Today's review is no different. Let's talk about Soap and Glory's Flake Away Body Scrub ($9.99).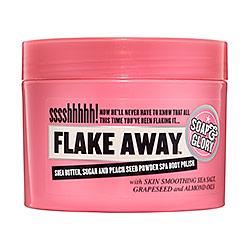 product claims
Ultra smoothing body polish equipped with shea butter, sweet almond oil, peach seed powder, sea salt, and sugar. Removes dry skin with the tantalizing scent of bergamot and mandarin, rose, jasmine, peach, strawberry, warm vanilla  and more – YUM!
does it really smooth away dry, dead skin?
Packed with both sea salt and sugar, this product does wonders with smoothing and refining skin' texture.  The exfoliant is super thick which makes an easy and mess-free way to flake away dead skin. Apply a handful to damp skin. Spread all over your body and rub in gently. Use weekly or 2x a month for smooth, glowy skin.
the scent lasts!
I can't stop raving about the scent. And, it's not one of those short lived scents. It lasts for hours. It reminds me of candy. It reminds me of bubble gum. And, it reminds me of vanilla – all my favorite scents. Great for a spa quality results at home.
The verdict.
I recommend Soap and Glory Flake Away Scrub (10 oz) to all skin types except sensitive. It's great for at home spa treatments. It's also filled with good-for-skin-stuff like shea butter and almond oil. Most bath and body products can only promise a good scent. This stuff smells good and is good for your skin.
Product:
Soap And Glory Flake Away Body Scrub
Review by:
Girl Rates World
Rating:
5
See more: Soap and Glory product reviews