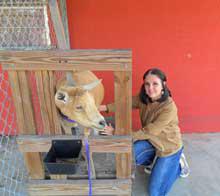 Plott Hollow Farm Interview
Hi, the name of my company is Plott Hollow Farm, named after our 3 faithful Plott Hounds that patrol and protect our stock at night, and who are a never ending source of entertainment and sometimes aggravation.
When we bought our farm our goal was to preserve rare and endangered livestock and poultry. We also wanted a few pet goats. We got Nigerian Dwarf, which are also excellent milkers. I needed an outlet for all the milk so I started experimenting with soap. Then I found the soap guild and started to learn all kinds of wonderful things I could do with soap. I have been at it about a year now and I absolutely love it. I would rather make soap than do anything else. So that is how my soap company, Farm Girl Soap came about. Since I am a farm girl again, (I grew up on a farm) it seem like a good name for the soap. I also run a grooming shop from the farm, but I love the soap and all the soapers. I have never met a soaper yet who was not willing to share information and help in anyway they could, and, I love that about this industry. Everyone is so helpful.
I love the videos and recipes that Natures Garden post and I also love that they post all their test videos on youtube and list the results on their product descriptions. Once again just another example of how helpful a soaper are. Since I hooked up with all the facebook soaps I feel like I have an extended family. If I ever have a question I can get the answer in minutes just by posting it. I do have to admit, I love making soap much more than I like selling it! Selling my soaps and other products has enable us to move our farm forward with our goals. We now have 5 different breeds of chickens with are listed as critically endangered and one breed that is listed as threatened with the American Livestock Conservatory.
We also have just purchase a breeding pair critically endangered French Poitou Donkeys, it is believed that there are less than 400 of these donkeys world wide. Our female is expecting in June. So we are super excited about them. As I move into the new year I hope to see my soap business flourish and develop a larger regular clientele base. I have a plan to have a really nice covered wagon that I hitch my male donkey to and drive to local farmers markets and have the inside of the wagon set up so people can step inside to shop for soap and other bath goodies, of course Mr. donkey will get a lot of publicity and carrots! We love our goats and I love making the soap but it would be super cool to incorporate the donkeys into the soap biz as well. Plus it will give people, especially children a chance to interact with animals they probably would never see other wise and it gives a not of nostalgia to the soap buying process. Thanks for taking the time to read my story!
our web page is http://www.plotthollowfarm.com
Face book http://www.facebook.com/pages/Plott-Hollow-Farm/213677488648748