Whiled away a couple of fun, interesting hours with fellow bloggers on a Dubai Eye Radio programme this morning.
Suzanne Radford and Alexander McNabb on Dubai Today's 'Techno Tuesday' decided they'd devote most of the programme to blogging and bloggers.
But that's not what this post is about. Far better, if you're interested, to go to the podcast, which Alex said should be up soon on their website. Instead of me telling you about it you can listen to the programme.
No, the post is another in my 'bloody useless signage' series.
Over the years of blogging I've complained many times about the road signage being confusing, inaccurate and dangerous. In this case it simply doesn't exist.
I've driven out to Global Village the past two weekends (I must post about that too), going from Al Sufouh along Umm Suqueim Road to Arabian Ranches.
I had no idea that Studio City, where Dubai Eye is located, is there, right across the road from Arabian Ranches.
Today I saw the reason. Following Suzanne's instructions on how to get there I found it was exactly the way I'd driven to Global Village. But I didn't see one single sign to Studio City.  Nor when I got there did I see a sign identifying the place.
Millions spent on developing a new 'city', plenty of companies operating from it and not a sign anywhere.
You can get a temporary one run up for a few dirhams if the permanent one isn't ready.
Although why it wouldn't be I can't visualise. The time it took to build the impressive-ish entrance gate was plenty of time to get a sign made.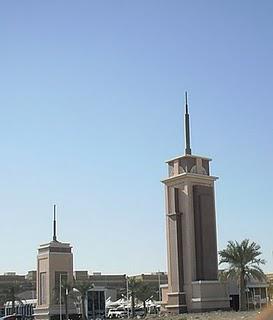 Come on guys, it isn't rocket science it's just road signage. How can you get it so wrong so consistently?
Back to the programme for a minute to guide you to the bloggers who participated in it.  Reflecting the blogosphere, they're all very different. But as they were hand-picked by Alex they're all well worth a read.


Dubai-ified




Mich Cafe




Who-sane




H

ellwa

Fashion




A Nabulsi Story




andfaraway


And Alex' own blog is 

Fake Plastic Souks


You can listen to the podcast here, at

DubaiEye103.8