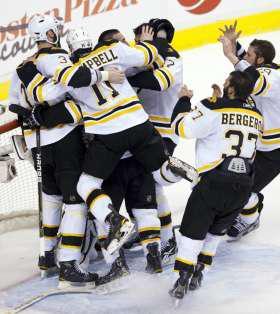 Congratulations to my all my friends who support the Boston Bruins, as they won their first Stanley Cup championship with a 4-0 whitewash of the Vancouver Canucks on the road in Vancouver.
The Bruins become only the third team to win a Game 7 championship game on the road in the last 32 years, joining the Pittsburgh Penguins of 2009 and the Pittsburgh Pirates of 1979 in turning the trick.
Tim Thomas was named Conn Smythe winner as MVP.
BTW, did you know their was a lunar eclipse tonight? Yep, the Bruins win their first Stanley Cup in 39 years, and when the Red Sox won their first title in 86 years in 2004 the same lunar eclipse happened on both nights. Wow.
It was a truly embarrassing performance by the hometown Canucks, as the Bruins outplayed them in every facet of the game. The Bruins truly deserved this trophy, especially after the really embarrassing loss in the playoffs last year, when the Philadelphia Flyers came from 0-3 down in the second round to beat the Bruins four straight.
It's been an amazing last ten years in Boston-area sports, and guess which of the four teams now has the longest title drought? Yes, it's the Patriots, who have not won a Super Bowl since 2005!
The city of Boston is now the first city ever to have a team in each of the major sports to win a title within seven years. Quite amazing.
And I'm sure many Boston sports fans might not have been paying close attention tonight, but Josh Beckett pitched his first career one-hitter, as the Sox turned the tables on Tampa Bay with a 3-0 win.
The Sox had only one hit going into the seventh inning, but Kevin Youkilis hit a three-run home run off Jeremy Hellickson to give the Red Sox all the offense they needed. Reid Brignac singled off Beckett in the third and that was all the TB offense for the night. Brignac was also the only man left on base by either team.
New York's win over Texas keeps the Red Sox lead at 1 1/2 games.
A Tim Thomas shutout brings a Stanley Cup, and Josh Beckett just misses a no-hitter. Not a bad night to be a Boston sports fan.
And let's hope this isn't the last title for the city of Boston for 2011.