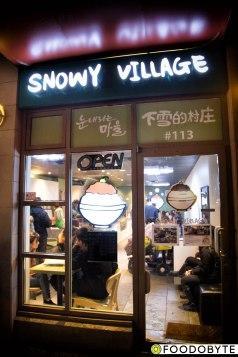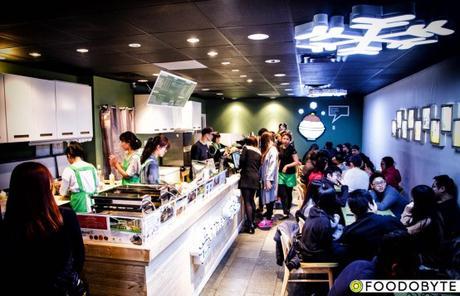 There are some things in this world that I'll just never understand. Physics. Chemistry. Why does an avocado go from raw to rotten real quick.
And why is Snowy Village Dessert Cafe so packed? So packed that Kirby, Food Queen, Foodology, Gastrofork and I had to wait for nearly an hour for a table. A table which was nearly given away to a party after us because the waiter can't read a list properly.
Also, we were told to wait outside because this couple didn't like having so many people waiting inside. It's Richmond – suck it up. Normally, I wouldn't mind, but it was super windy and rainy that night. So yeah, that blew. We went back inside 30 minutes later after we couldn't take the cold anymore. Later, other people were also told to wait outside, but they were offered a phone call if their table was up next – an offer that was not made to us. One group had a little baby too… where's the sense of humanity?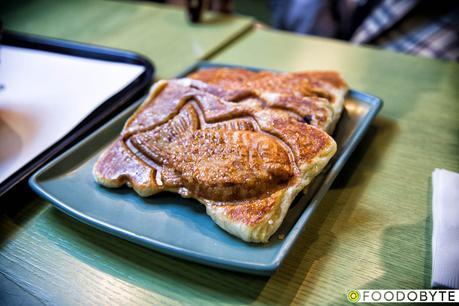 Anyway, onto the food. By now, we were all thinking that this better be worth it. It was not.
Let's start with the Croissant Takiyaki. There were five different fillings available: custard, nutella, injeolmi red bean, red bean, and sweet potato. We picked the first two, doubling up on the custard because there's a 3 for $10 deal (vs $3.5 each).
We were fooled. The custard didn't taste anything like custard. It was like store-bought, institutional vanilla pudding. It was nasty.
The nutella was alright, but how could anyone possibly screw that up? Except by putting very little in it.
And for the actual fish, it did taste more like a croissant. Because of that, this dessert tasted more savoury than sweet, especially since there was only a tablespoon or two of filling inside.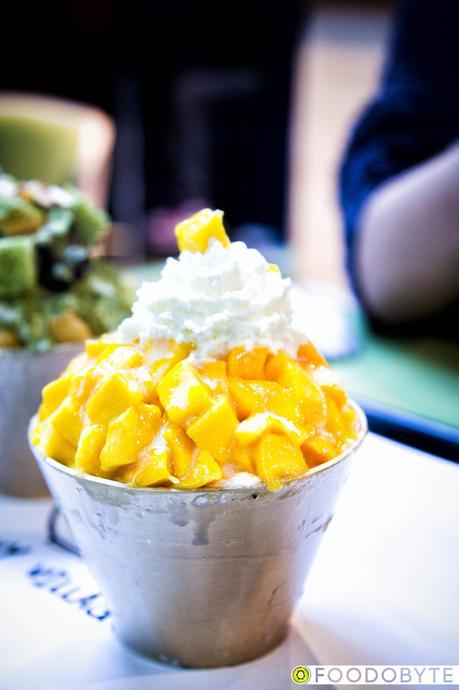 The Mango Bingsoo ($10) was topped with sweet, ripe mango with some whipped cream. It was very simple, but tasty.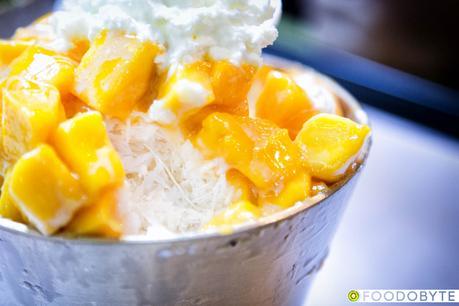 Underneath the mango, there are the "snowflakes" – essentially shaved milk, instead of ice. It wasn't too sweet, but still made the dessert more interesting. There's a little bit of mango half way through.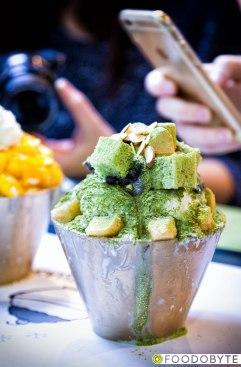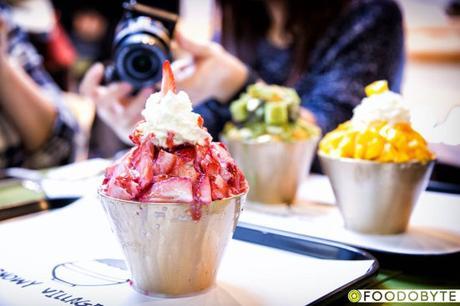 The Green Tea Bingsoo (ours was regular for $8; $12 for large) had some green tea powder, mochi, spongecake and shaved almonds. This was quite underwhelming because aside from the green tea powder, there's nothing much else to add flavor to the snowflakes.
The Strawberry Bingsoo ($10) was similar to the mango. It was a little difficult to eat without the strawberries sliding down off the sides.
Overall, the bingsoo tasted okay, but totally not worth the price since it was mostly shaved milk with a little bit of toppings. Personally, I'd rather go to Icy Bar that offers the same style of desserts, but are more generous with their toppings at the same price point.
Final Bytes
Not worth the wait
Not coming back
Not understanding why the line-up
Foodobyte's Rating


to eat / to recommend
---