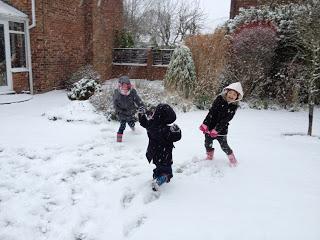 Snowball Fight!
The snow is piling up on bushes and buds pushing through this typically mild English winter. School was cancelled just as flakes began to fall, as head teachers noted the drive home would be too dangerous for teachers and students alike.
Happily, the children made snow angels, snow balls and tracks through a backyard blanketed in white. Though this would be nothing more than a mild inconvenience in Michigan, it puts an unequipped area into a virtual standstill.
When the coats and gloves and boots were too wet to remain on their small, chilled bodies, we turned to computer games, books, monster-making projects and plenty of hugs and cuddles.
The Boy did well in preschool this week, though I left him crying both Tuesday and Thursday. He came out the door at 3 o'clock happy, smiling and jumping! He loves the full set of Cars toys he gets to play with there, but his favorite thing? His teacher. He is so sweet.
I spent the quiet days catching up on household necessities and figuring out taxes and residence visas. So much paperwork it will make my eyes bleed when I fill it all out! More productively, in my opinion, were the minutes spent writing posts, paid articles and voraciously pouring over videos and interviews of transformational leaders, learning about EFT, The Work and of course, The Passion Test materials. I'll tell you more about all of those in future posts and on the new website I'm working on: www.affirmativethought.com. Don't bother visiting yet! It will be under construction for a few more months.
I'm now leaning toward switching from a March training in India to a May training in Tel Aviv. To do either, I need to get my peer-backing campaign posted! I'm half-way there. The goal is to go live by Thursday next week, so watch for it, share it, and hopefully, contribute toward it!
But now, it is time to put it all away for the weekend and enjoy precious family and leisure time. Little Rose has her first play-date tomorrow and I'm hoping to escape to see Les Miserables! Wish me luck; I'll need it.
Have a beautiful weekend.