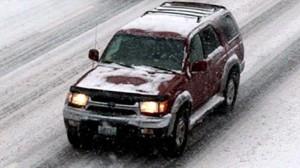 KMOV
Well, you might have thought travel worries were over after last week's snowfall, but we encourage drivers to be extra cautious this week while the St. Louis area continues to get a snow "dusting".  Monday's snow storm hit the Kansas City area hard and moved eastward dumping on Columbia as well.  In St. Louis, we were lucky to have higher temperatures so that we got mostly rain. But if you are looking out of your window this Wednesday morning or faced the commute to work, then you know that the greater St. Louis area is getting some snow.
During these times of year, you cannot bank that the roads are all treated—especially ramps and bridges. While it seems that the highway departments are diligently treating the roads, black ice and slick spots are still common.  We recommend that you carefully follow some precautionary steps before preparing to drive.
Make sure you have plenty of gas in your car in case you are stuck in traffic due to accidents or increased traffic jams
Make sure you have a cell phone with you to use in case of an emergency
Make sure that your tires have the appropriate tread—after several months of snowy weather travel, you need to be sure that your tires are still in good shape
Have an emergency car kitwith you:

Flashlight with extra batteries
Blankets/sleeping bags
High calorie, non-perishable food
First aid kit
Knife
Extra warm clothes
Sack of sand or kitty litter
Shovel
Windshield scraper and brush
Took kit
Tow rope
Water
Water proof matches
Road maps
E.   Roadside service companies such as AAA are great for the winter months.  For a relatively low cost per month, they can assist you regarding flat tires, tow service, lock outs, etc.  My experience is if you use their service once every two years, then it is worth it.
Whether it is a short commute to work or an across the state or country drive, it is always better to be prepared for inclement weather, so that if your car becomes stuck, you do not freeze or dehydrate while waiting for help
TAKE YOUR TIME—this might be the best advice during inclement weather. We are always in a hurry, don't try to make up time in your schedule on the road. This is good advice whether it is bad outside or if it is sunny at 80 degrees.  But being patient and taking your time while roads are less than good, may save you from a life changing accident
At The Cagle Law Firm, we know car accidents happen.  In fact, according to statistics, you are more likely than not to be in more than one auto accident in your life.  The important thing to do after a motor vehicle accident is to first seek medical treatment.  After trauma, we  generally expect to be sore for a week or so, but it is important that you seek medical assistance to be certain that you have not been seriously injured.  A car accident can create a lot of trauma for your body and should not be taken lightly.  Often we think if we are not bleeding and conscious, then we are fine. But your health is not something you should "wait and see" about. Seek medical assistance immediately.  Then determine if you need legal assistance.  If you are not hurt, then you probably do not need legal assistance unless the other party is claiming it is your fault.  If you are not sure if you need legal assistance, our attorneys provide information seven days a week and can be reached at 1(800) 685-3302 in order to give you information that is critical to your future decisions.
Link to this post!Snow in St. Louis, Missouri & Illinois–Stay Prepared" onclick="javascript:this.select()" readonly="readonly" style="width: 100%;" />