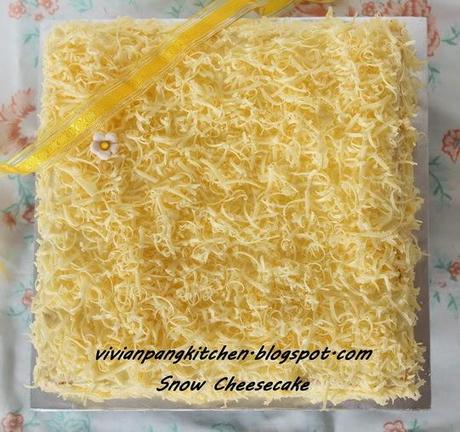 A friend of mine introduce me snow cheesecake. I have no idea what exactly it is. Without much hesitate I googled the recipe and find out. Basically it is frosted cake with cream cheese frosting and top with shredded cheddar cheese. There is lots of variation cream cheese frosting recipes and the only difference is the proportion of the ingredients.  I prefer my cake not overly sweet nor overly grease. So I tweak the recipe to suit my taste.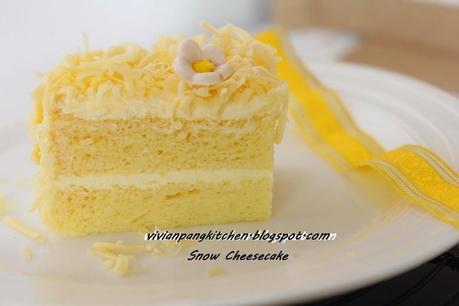 If you are not sweet tooth person you may like this dessert. Saltiness from the cheddar cheese just right to pair with the sweetness from cream cheese frosting. I have made many times and this is one of my family favorite frosted cakes. Happy baking!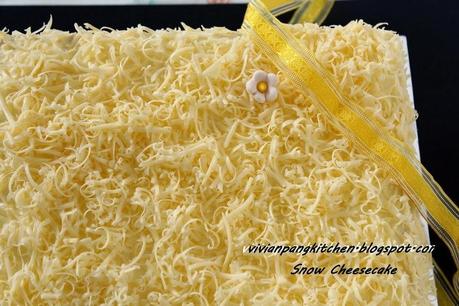 Recipe from Vivian Pang Kitchen
Snow Cheesecake
~Chiffon Cake base
Ingredients:
(A)
5 egg yolks
20g sugar
80g milk (or water)
60g corn oil
120g cake flour
(B)
5 egg whites
60g sugar
¼ teaspoon white vinegar(or lemon juices)
*Using chiffon cake making method bake in 8" square pan. Divide the cake into 2 layers.
~Cream Cheese Frosting
Ingredients:
(A)
250g cream cheese (Philadelphia),room temperature
50g sweetened condensed milk (can increase further if prefer sweeter)
(B)
120g whipping cream
(C)
125g KRAFT cheddar cheese, shredded
Method:
1. In a mixing bowl, place in cream cheese and condensed milk. With electric mixer beat the mixture till light and fluffy.
2. Follow by whipping cream. Continue beating till well combined. Now, the frosting is ready to be used.
3. Place one layer of cake on working station. Apply about half of the cream cheese frosting evenly on top. Cover with the other layer of cake. Again frost the whole cake till evenly coated.
4. Gently coat the whole cake with shredded cheddar cheese. Chilled the snow cheesecake at least an hour before consume.
######################################################
For those who resident in Kuching area interested to place order, please inbox me at 
[email protected]