E-mail marketing is an important part of a marketing strategy for online businesses. All the activities like prospecting, Influential marketing, guest blogging, feedback and link building can benefit considerably from a conventional email distribution plan.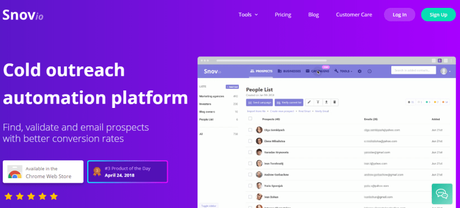 But here is the thing: All these tasks are challenging and takes countless time and research to find not only the information you need but also to get an effective delivery model for the job to be done. If you can not find the right person's email address or even worse, send it to invalid addresses, the total search time will be lost.
That's why you need a reliable email outreach automation and a validation tool at your side. Snov.io is one of those tools.
In this Snov.io review article, we will quickly analyze the key features of Snov.io, snov.io price plans, and other factors that will help you decide if this is a perfect Google Chrome extension for your outreaching efforts.
What Exactly Is Snov.io? Snov.io Review in Detail 2019
Snov.io is a great Google Chrome extension that lets you search for email addresses in professional social network profiles and on any website. Snov.io also helps you review the collected emails as it contains a separate email address verifier.
With the Email Search Tool, you can easily search for email addresses on platforms such as LinkedIn, Twitter, Facebook, or any other website and send emails from the extension.
Main Features of Snov.io (Detailed Snov.io Review)
Domain Search: The Snovio Domain Search tool helps you to find all the email addresses for a specific domain. You can also use the bulk domain lookup section if you want to track multiple domains.
Email Checker: With Snovio's Email Checker, you can check up to the thousands of emails in blink of minutes. Regardless of the size of your list of email addresses, snov.io will review them within a reasonable time.
Email Search For LinkedIn: With Snovio's Chrome extension, you can find email addresses in LinkedIn profiles. You can search on the same LinkedIn or use the Snovio Lead Search Tool to find the profiles you want.
Prospectus Search: You can search the Snovio database to find potential customers in the shortest possible time.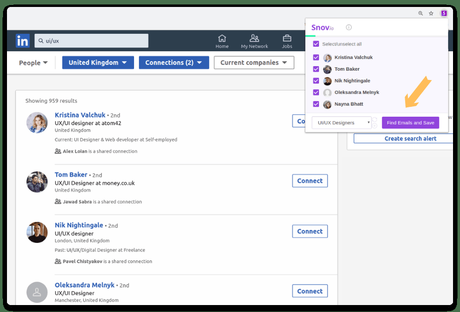 Business Search: If you know the city, sector, and country of any business, with Snov.io you can find the company profile easily. This will allow you to contact the right person in the right department.
Technology Verifier: With the Technology Verifier feature, you can review which CMS tools, marketing, web frameworks, software, analytics, and e-commerce your potential customers are using (for example, WordPress, Shopify, Google Analytics, and other technology used by the company).
Linker: Recruiters can also take a huge benefit from snov.io, Snov.io's linker tool will help them to find potential candidates. Recruiters simply need to enter the job title, skills, and locations to find links to places where they can find candidate profiles.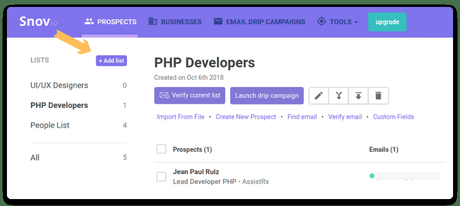 Snov.io Also Comes With Integrated Email Drip Campaigns
When you ask any marketer about the challenges he faces on a regular basis. He'll probably say that it's about sending emails manually. Yes, this process is so much time-consuming. Snov.io email drip campaigns are different from the other tools available in the market
The best part is that you can use the triggers and postpone the day of your choice. Snov.io's Anti-Drop Email Campaign gives you complete control over how you want to send emails. Check the snov.io review below:
Here Are Some Key Features of Snov.io Drip Email Campaigns:
Smart Triggers
One of the best features of Snov.io email drip campaigns is the fact that you can use triggers. But what are these "triggers"? You may have this question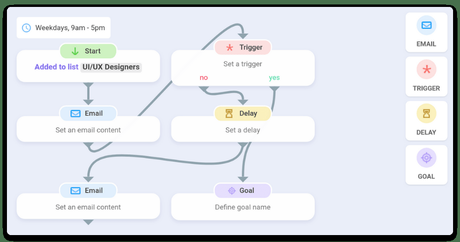 These triggers are of two forms. For example, you can configure a trigger "If the email is opened within X days or hours, and you can send them another email." Maybe just to summon them who are still searching for their answer.
The second trigger is "click on the link". When the recipient clicks the link in the emails, the trigger is activated and the next email in the email flow is sent to that person or the campaign could have ended on this route. It all depends on the campaign you are creating.
Send Personalized Emails
If you still do not know, this information will be useful. Emails tend to open with custom subject lines. People tend to prefer personalized emails and more often follow the link in these emails. This means that you need an adjustment.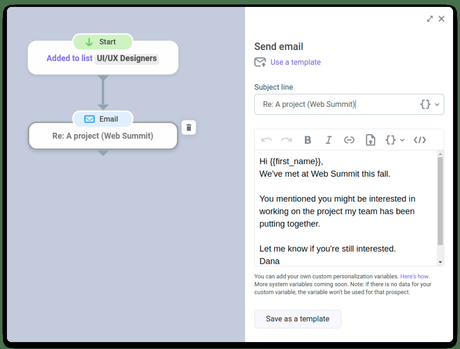 How lucky are you! Snov.io anti-drop campaigns provide this feature. You can personalize the subject of the e-mail with the first and last name. If the list of uploaded leads contains other prospective data in columns, you can also add custom variables to the campaign.
Send Emails To Specific Personalities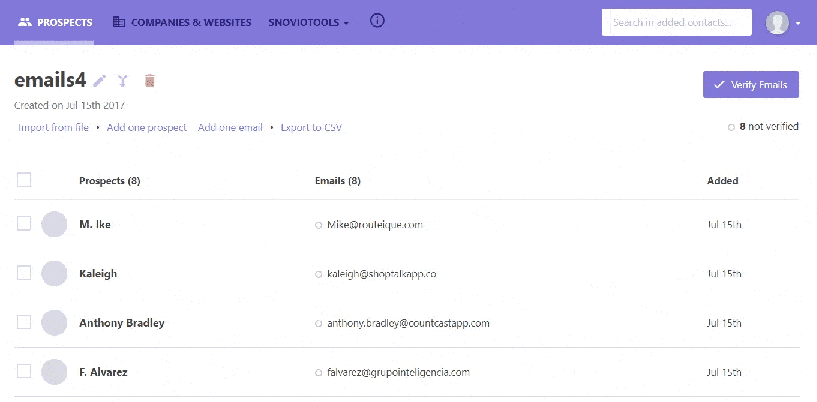 Sometimes you want to send emails to a specific group of people on the list, but you are not able to do it because of a huge list. This is possible with Snov.io's Email Drip campaigns. You can select specific people from your list of prospects to whom you would like to send these emails. Snov.io make it easy for everyone to customize their campaigns within minutes.
How You Can Setup Snov.io In Your Browser?
It is very easy and just takes a minute or two to set up in a browser, you just need to:
Visit "snov.io" and click the "Available in Chrome Web Store" option where you will be redirected to the chrome web store.
Click on "Add Extension"
Post installation, it will take you to the signup page, where you can create your free account or a paid account if you want additional features. They also allow you to integrate it with your Gmail ID for more automation.
Once done, you are ready to go and find legitimate emails.
Benefits Of Using Snov.io For Your Business
1. No more manual search: With the Email Finder extension, you can scan any Web site you need to enrich, segment, and later use emails directly from the lists of potential customers.
2. Bulk options: In Snov.io, whether it's a domain-based email search or email review, provides tools to do these things in bulk. Upload your domain or email list to the platform and let us do the rest with massive domain search and email verification. Snov.io supports various formats (Excel, CSV, and TXT).
3. An all-in-one platform: According to a study by the American Psychological Association, "even short mental blockages caused by changing tasks can cost up to 40% of a person's productive time." This means that every time you or your employees need to change platforms to search, review, and track emails, create campaigns and analyze results, decrease productivity, and expand your simple tasks.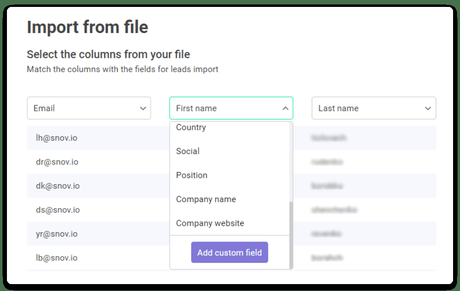 Solving all the tools on a single platform solves this problem and provides a convenient and efficient way to navigate through the daily workflow.
4. Automation: In today's business automation is increasing and you can save hours each day by automating your email marketing process. Snov.io can automate the generation of potential customers, retrieve e-mail and even send e-mails.
5. Mail campaigns with activated filters: You can send emails to multiple prospects with filters of your choice.
6. Affordable: With a comprehensive platform and affordable subscriptions, Snov.io is a real blessing that your marketing and sales department can use daily without leaving the budget.
Snov.io Pricing Plans
Snov.io comes with 5 monthly-paid packages (yearly plans with discounts are available). You can choose your package depending upon the size of your company and the needs. What is more, freemium is also provided by the service and offers the following benefits:
Forever Free Plan With Limited Access Like:
100 credits/month
100 domain searches
100 verified LinkedIn Id
50 bulk domain searches
100 emails from names
Unlimited domain emails
Upload and verify 200 own email
CSV File Export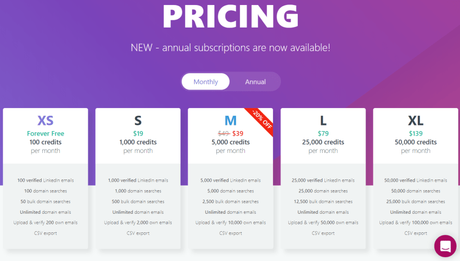 Snov.io's every plan, including the free one, gives you full access to all tools, extensions, and features on the platform. In the free plan, you are only limited by the number of credits for email search or validation. As a reward to the snov.io's loyal customers, it also offers up to 20% discount when they purchase a yearly plan.
Snov.io Customer Service
The customer service is one of the most important aspects of a tool or service. Snov.io is doing a great job in this aspect. Snov.io has its own knowledge base that contains answers to the most questions about their amazing Chrome extension.
If for any reason you cannot find an answer to your question in the Snov.io Knowledge Base, you can contact them via chat, email or phone. They take care of their customers and react quickly. They are active 24/7 to give you the utmost support every time.
Quick Links,
Conclusion: Is Snov.io The Right Choice For Your Outreach Automation? (Snov.io Review Summary)
According to me, snov.io is a very useful tool for generating leads and outreaching them by e-mail. This extension significantly saves the business time by taking very less time to find relevant leads and simplifies the entire disclosure process. All you have to do is download the Chrome extension and sign up for one of their plans.
Since they have a plan that is always free, there is no reason not to give Snovio a chance. We hope you found this article useful. Let us know in the comments section below what you think about Snov.io and its features.