New to little Indiana? Subscribe for free to my RSS feed. Thanks for stopping by!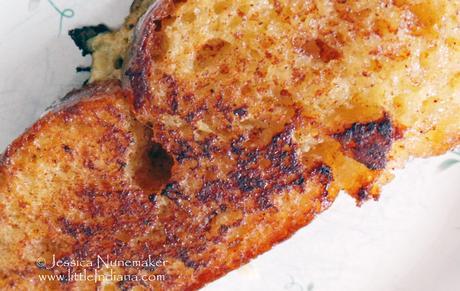 Snickerdoodle French Toast Recipe
I don't normally make french toast recipes, bread doesn't stick around long enough in this house to go stale, but after seeing this tasty Snickerdoodle French Toast Recipe, I decided to give it a go.
Leftover homemade French Bread made the perfect base! We had been out and about and just didn't get that second French Bread loaf eaten–so I figured I may as well make something out of it!
Don't be alarmed by the term "Snickerdoodle" here. This is not overly sweet but it does smell like the best Snickerdoodle Cookie recipe! I found this recipe on Food.com and now I think I'll have to start making French Toast a lot more often!
Snickerdoodle French Toast Recipe
Print Snickerdoodle French Toast Recipe
Rating: 51
Prep Time: 5 minutes
Cook Time: 5 minutes
Total Time: 10 minutes
Yield: Depends on your bread--I had plenty to serve 4.
Ingredients
1/4 Cup Sugar
3 teaspoons Cinnamon
3/4 Cup Milk
3 Eggs
1 Pinch Salt
1 1/2 teaspoons Vanilla Extract
Bread
Instructions
Combine Cinnamon and Sugar and set aside.
Whisk together Milk, Eggs, Salt, and Vanilla Extract.
Pour into shallow bowl. Dip bread into bowl to coat.
Generously sprinkle one side with Cinnamon-Sugar mixture and place that side down in greased, preheated pan.
While the front is cooking, sprinkle the other side with Cinnamon-Sugar mixture.
Cook until bottom is browned and firm.
Flip over, cook, and serve.
Schema/Recipe SEO Data Markup by ZipList Recipe Plugin2.0http://littleindiana.com/2013/02/snickerdoodle-french-toast-recipe/Photos are the Property of little Indiana. Do Not Use Without Permission.
pictures in Indiana
little Indiana Tumblr blog
Just don't forget to tell 'em that  little Indiana sent you!
Don't miss a moment. Subscribe to little Indiana and receive instant updates to stay on top of everything "little."
little Indiana: Where to Stay, Play, and Eat in Small Towns in Indiana. Discovering Indiana's best small towns! Now get little Indiana on your Kindle.
Targeted. Relevant. Affordable! little Indiana advertising.