13 Flares
13 Flares
×
New to little Indiana? Subscribe for free to my RSS feed. Thanks for stopping by!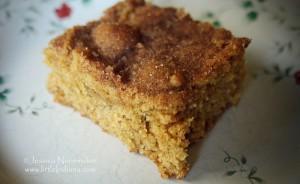 Snickerdoodle Cookie Bars Recipe
Soft and chewy Snickerdoodle cookie recipes are always a fave with me–and this one for Snickerdoodle Cookie Bars is so good and easy!
The Snickerdoodle Cookie Bar dough is stickier to work with than your usual bar recipes. Greasing a spatula to make for easier spreading does the trick.
Baked in a 9 x 13 pan, these would be a unique offering to a potluck or pitch in. All I can say is "yum!" This recipe is the adapted version from Crepes of Wrath.
Snickerdoodle Cookie Bars Recipe
Print Snickerdoodle Cookie Bars
Rating: 51
Prep Time: 10 minutes
Cook Time: 30 minutes
Total Time: 40 minutes
Yield: 24 Snickerdoodle Cookie Bars
Serving Size: 1 Bar
I used the version adapted by Crepes of Wrath blog.
Ingredients
Snickerdoodle Cookie Bars:
2 2/3 Cups Flour
2 teaspoons Baking Powder
1 teaspoon Cinnamon
1/4 teaspoon Nutmeg
1 teaspoon Salt
2 cups Brown Sugar, Packed
1 Cup Butter, room temperature
2 Eggs, at room temperature
1 Tablespoon Vanilla Extract
Topping:
2 Tablespoons Sugar
2 teaspoons Cinnamon
a pinch Nutmeg
Instructions
350* oven. Grease a 9 x 13 pan. Set aside.
Combine Flour, Baking Powder, Cinnamon, Nutmeg, and Salt. Set aside.
In large bowl of electric mixer, beat Butter and Brown Sugar for 3 - 5 minutes.
Add in the Eggs and Vanilla Extract and beat until combined.
Stir in Flour Mixture until well blended.
Spread evenly in prepared pan.
Combine Cinnamon and Sugar. Sprinkle over unbaked cookie bars.
Bake 25 -- 30 minutes or until bars spring back when lightly touched.
Schema/Recipe SEO Data Markup by ZipList Recipe Plugin2.0http://littleindiana.com/2012/10/snickerdoodle-cookie-bars-recipe/Photos are the Property of little Indiana. Do Not Use Without Permission.
Find pictures in Indiana on my Flickr photostream or on the new little Indiana Tumblr blog.
Just don't forget to tell 'em that  little Indiana sent you!
Don't miss a moment. Subscribe to little Indiana and receive instant updates to stay on top of everything "little."
little Indiana: Where to Stay, Play, and Eat in Small Towns in Indiana. Discovering Indiana's best small towns! Now get little Indiana on your Kindle.
Targeted. Relevant. Affordable! little Indiana advertising.