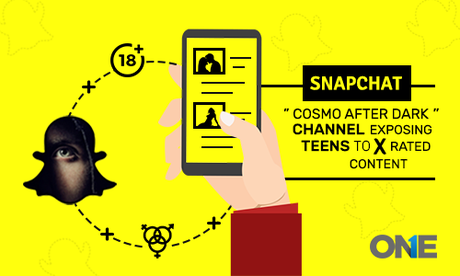 Is there any difference between the social media apps, dating apps, and X –ranting websites? I think it is very hard to say these days instant messaging apps remains communication tools only. Snapchat is been launched for social networking, but over the years when it has got huge success among the youngsters. Users get started with Snapchat as a dating app. Since the last year, it has come up with "Cosmo After Dark" channel that exposing teens to X–rated content.
It is leading teens towards the sex-focused publication for young girls advertising the new channels as "a guide to good sex all weekend long." It means young tweens and teens are exposing towards the adult content. However, it may be above 18, but who cares to restrict young kids and teens to put real credentials in terms of their age on the Snapchat. Parents are unaware of the facts what kids and teens are doing on social media apps.
"Cosmo After Dark" on Snapchat in a Nutshell
Since a year ago Snapchat introduced a new channel in discover section in particular named as "Cosmo after Dark". By using its own language, the particular channel "is an X-rated weekly edition that comes live on regularly every Friday at 6pm.  Moreover, it is exclusively arranged for sexually explicit content. On the other hand, parents are sitting idle being unaware of the fact and even who knows cannot do anything. In addition, there are almost no parental controls on Snapchat. It means the discover section of the Snapchat is the real mess for the parents and they remain helpless for the teen's digital safety. The instant messaging app Snapchat is not remaining the same.
The Social Media App Snapchat has Turned Teen's Phone into a Best Sex Toy Forever
The particular sexualized channels that can be accessed on the Snapchat discover section was truly introduced for the women between the ages of 18 – 34. However, these days young teens and school going teens starts visiting "Cosmo After Dark" Online on Snapchat. So, we can say that the adult channel has made the mobile phone devices into the best sex toy for teens forever.
In What Ways Snapchat is Dangerous for Teens
Teen's Snapchat Stats:
Teens use Snapchat more than anyone else and minimum spend two hours a day
Snapchat is one of the most popular social media apps among teens. Record social apps screen remotely
Teens at least visit Snapchat more than 20 time a day
91% of teens under age of 18 use internet on mobile phone and social media including Snapchat
Snapchat vulnerability Facts for teens: ABC News
The social messaging app has a structure to addict teens to be the daily use with a phenomenon called Snapchat Streak
Experts do believe that Snapchat Streak creates psychic disorder in teens. They think if she doesn't respond to Snapchat friend. It will offend them and their popularity graph may decline than their peers.
Snapchat MAP let predator online track teen's location
Teen's use location feature "pinch to zoom" on the story page and get to know the location from where friends are posting

Cyber predators

such as stalkers, bullies online and sexual predators use Geo location to get to know the exact GPS location of teens
Teens sharing Snapchat Username & passwords with friends
Teens used to share their Snapchat user name on Instagram which is quite dangerous.
It makes even more vulnerable for Instagram profile as well when teens share the Snapchat username
Teens also share Snapchat login passwords to maintain a streak
Shared passwords with friends can turned vulnerable such as sharing in appropriate content
Snapchat carries potential negative effects for teens in terms of anxiety, depression, cyber bullying, self –Obscenity, sleeping disorders and addiction x –rated content via "Cosmo After Dark"
Snapchat "Cosmo After Dark" Leading Teens to Adult Content
Snapchat is shockingly leading young kids and teens towards sexually explicit stuff that is quite dangerous for underage children. Therefore parents need to have honest insight into what is on Snapchat. Today, teens are discovering about the female body parts begins with the letter "C". Moreover, young social messaging app users have access to the articles such as "The X–rated party confessions, "5 Mind-blowing sex positions to have multiple orgasms and best adult sites over the internet.
Cell phones have turned into pocket porn and iPhone has been turned into iporn and teens and kids are doing slut shaming activities. Therefore, parents have to keep an eye on teens cell phones and social media activities. Digital parenting has become an important element in parents' lives. Otherwise, teen's online safety is at stake and they could be exposed to X rated content "Cosmo After Dark" via Snapchat instant messaging app discovered section.
National Center on Sexual Exploitation (NCSE), Adult content online is a public health Crisis & teens these days are more likely to become a victim using social media app like Snapchat
Protect Teens From Snapchat X Rated Content Using Snapchat Spy App
All you need to do is to set parental control on teen's social media activities Snapchat, in particular, using Snapchat monitoring software. The Snapchat parental control app empowers parents to trace out the self –destructed Snapchat messages with the help of Snapchat android screen capturing app. It empowers parents to remotely get access to the social media app and capture screenshots sent/received messages of Snapchat. Moreover, you can download all the captured screenshot from the Snapchat spy app online control panel and you can read the content of the messages.
However, when it comes to the Snapchat discover section and clumsy and ugly x–rated content of "Cosmo After Dark" parents can use Snapchat live screen recorder. It will empower parents to perform live screen recording of the target android device screen running with Snapchat. An end user can make back to back short videos of the screen and the recorded videos can be accessed via a web portal. So, parents can get to know what teens and tweens are visiting at Snapchat discover section and protect teens from unwanted sex education or sexoscope rather than a horoscope.
Snapchat Live screen recording software is the ultimate and reliable tool to protect teen's exploitation to X rated content via Snapchat "Cosmo After Dark" channel: Guaranteed!