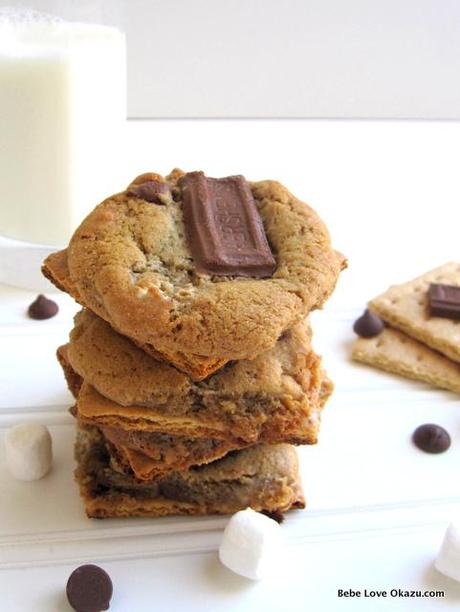 I'm not the baker that I once was, at least in the sense that I don't bake as often as I did in my 20′s. Yet, when I come across a mouth-watering photo on Facebook or Instagram of a melting piece of Hershey's chocolate bar sitting atop a mound of chocolate chip cookie dough resting on top of a piece of graham cracker… I quickly decide that I AM indeed a baker.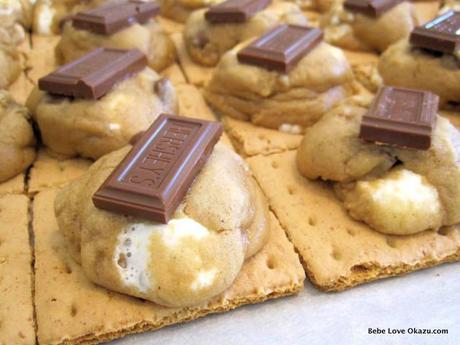 Fortunately, the timing for which I came across a Facebook photo of s'mores cookies couldn't have been more perfect. I had been craving s'mores for quite a while, but s'mores is one of those desserts I won't let myself indulge in. Before baking these cookies, I couldn't even remember the last time I ate a s'more but for me, food cravings are powerful. I become obsessed with my craving until it is satisfied.
Lucky me, because an opportunity presented itself to showcase these little s'more cookies at a family pool party and BBQ. I quickly tossed out my rule that I don't use the oven on a hot day, cranked up the air conditioner, and I baked these puppies up.
While I love sweets, my palate tends to prefer sweets that are not too sweet. I must warn you that these cookies are really sweet, just like a s'more, and they are thick and chewy and crunchy all at the same time. Coupled with the crunch of graham cracker, melted Hershey's chocolate, and hints of cinnamon in the chocolate chip cookie dough, if cookies could be candy bars, this is it.
However, despite the fact that I enjoyed this cookie-candy-bar, I think it can be improved. :) My friend shared with me that instead of placing the cookie dough on top of the graham cracker, she takes a small piece of the graham cracker, chocolate bar and a few mini marshmallows and wraps the cookie dough around the s'more ingredients. While I haven't tried this method yet, I can only imagine how amazing that first bite of s'more surprise must be. Which method will you try?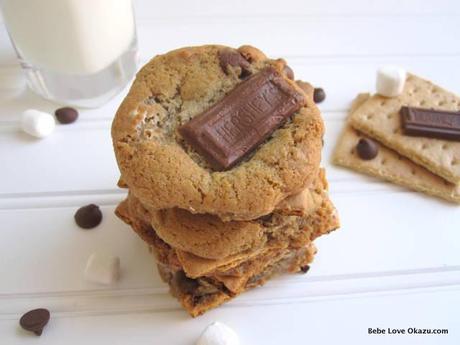 As for our week, we are slowly winding down our summer despite the hot and humid weather. I'm getting ready for my friend's wedding which is right around the corner, Big Onechan is settling into a routine back at school, AND wish us luck… today is Bebe E's first day of nursery school! Parents are invited to attend the first day of class, so my husband and I will take our little one to school and keep her company. It's hard to believe that just a few short years ago I held Bebe E in my arms as a newborn infant, and today she is a toddler that is conversing, inquisitive, loving and playful… *sigh*….
Can you tell, I'm having a bit of separation anxiety? :) My husband tells me that I will be fine (that I'll live) and 2.5 to 3 hours of school twice a week will be filled with great experiences for our daughter. Bebe E, on the other hand, is quite excited about going to school and making new friends. Have a wonderful first day of school, Bebe E!
S'mores Cookies Print
Recipe type:
Cookies
Author:
Judy | Bebe Love Okazu
Ingredients
1 stick, and 3 tablespoons of butter
1 cup brown sugar
1/2 cup granulated sugar
2 eggs
1 teaspoon vanilla extract
1 teaspoon baking soda
1/2 teaspoon salt
1 teaspoon cinnamon
2 1/2 cups flour
3/4 to 1 cup semi-sweet chocolate chips
3/4 cup mini marshmallows
3 regular size Hershey's Milk Chocolate Bars, broken into pieces
2 packages of graham crackers, broken into squares
Directions
Pre-heat oven to 375°F
Cream together butter with brown and white sugars until fluffy, using a mixer. Add eggs and vanilla.
Sift together flour, cinnamon, salt, and baking soda. Add to butter mixture until well-incorporated. Fold in chocolate chips and mini marshmallows.
Chill cookie dough for 1 to 2 hours.
Line cookie sheets with parchment paper. Lay graham cracker squares side by side. Place tablespoons of round cookie dough on each graham cracker.
Bake for 6 to 7 minutes, then remove tray from oven and place a piece of Hershey's chocolate bar onto each cookie, gently pressing down as you do so.
Bake for an additional 5 to 7 minutes until cookie dough spreads out over the graham crackers.
Notes
Recipe Adapted from Always With Butter.com
2.2.8