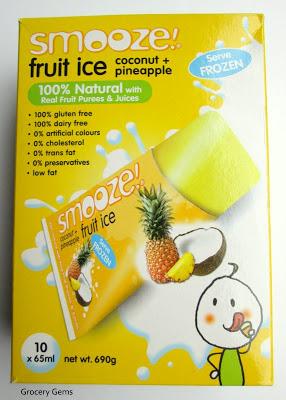 I bought this box of 10 Coconut & Pineapple Smooze Fruit Ices at the recent Allergy show, held at the Olympia in London. I also received samples of their other flavours to try; Simply Coconut, Coconut & Pink Guava, and Coconut & Mango. They're described as a coconut milk based gluten and dairy free iced treat with no artificial colours, preservatives or cholesterol.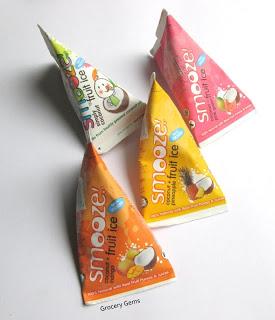 The Smooze come in pretty nifty triangular packaging that's easy to hold without any mess. The fruit ice iteself is made of pure coconut milk and simple 100% natural ingredients.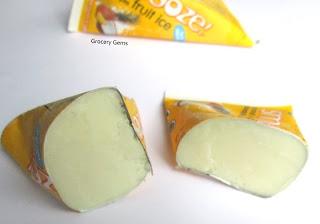 All the Smooze flavours are deliciously creamy - it's hard to believe they are completely dairy free. My kids loved all the flavours, but the Coconut & Pineapple and the Coconut & Mango were their favourites. The coconut milk provides a perfect base for the fresh and sweet fruity flavours. At only 64 calories in each Smooze, they're also a fantastic alternative to ice cream and have been going down a treat during this heatwave!
I bought these at the Allergy Show, but they are also available at some health food shops or to purchase online HERE. (They can be stored at room temperature until they need to be frozen).
Grocery Gems Verdict: Smooze Fruit Ice

RATING: 9 out of 10. Buy them again?: Yes.
Nutrition: 64 calories each. 
Vegetarian: Suitable for vegetarians and vegans.
Purchased: Allergy Show, but check local health food shops.
Price: £3.99 for box of 10.