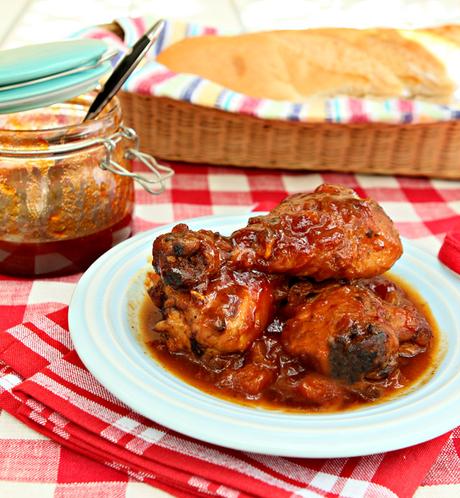 The theme for this week's Food Network #SummerSoiree is chicken. I do love chicken and actually made a new dish yesterday I'll be sharing soon but today I wanted to bring something out of the archives. Two years might not seem like a long time but in blog world it is and many of my readers have never seen this recipe. And you should! The chicken is smoked after being rubbed with spices and it is delicious on it's own but the thing that makes it? The Sauce.
As much as I love to barbecue; what I love just as much is conjuring up new barbecue sauces. I'm going through a fruit phase; maybe it's an extension of how fruit has permeated my salads and salad dressings but I've found them to be so complimentary to the seasonings that make up sauces for the grill. Between the spicy rub, the smoking process and the amazing sauce, by the time all is said and done the flavor that was imparted to this smoked chicken was amazing. I created this dish for a backyard get together and the sauce was so loved I was asked if I would please bottle it and sell it. How about if I just give you the recipe instead?
If I were making this later in the season I might have used fresh peaches but I'm not certain; the ease of using a jar of peach preserves can not be underestimated! I first made this dish when I was in a displaced mode, staying with neighbors after my house sold and before my new one was completed. Considering all the things that I either sold or stored, it says something that I brought my smoker with me. Anticipating a summer without smoking some chicken would simply not be the same. Or brisket or ribs or...see; how could I go through an entire summer without it?
I love having a smoker; the ease alone of putting the food in and letting it do it's magic is nice and nothing can beat the taste of something cooked low and slow with a hint of smoke, especially if that smoked comes from my favorite chips from Jack Daniels himself! Smoking something small like chicken legs is especially easy since the time element is relatively short due to their size. Short as in 2 hours versus a full day; that makes it something I can accomplish without spending the entire day monitoring progress. LOVE! The sauce would be equally wonderful as an accompaniment to barbecue chicken; just rub your chicken with the seasoning and wait til it's almost done to baste it with the sauce; there is a relatively high sugar content in the sauce so too long on the chicken and it will burn.
Served with Cilantro Serrano Mexican Rice (my FAVORITE rice dish EVER!), a simple salad with mixed greens, strawberries, sunflower seeds and a strawberry dressing, this Smoked Chicken with Chipotle, Peach and Bourbon Barbecue Sauce was simple and so good; doggone I'm craving some more now! We also had a trio of ice creams; our favorite being the Mounds Bar version; so good an entire gallon was consumed by just a handful of guests in one day. The ease of making homemade ice cream with these new-fangled ice cream makers might be my downfall; I have more ideas than I have time to bring them to fruition!
I made this dish again for our recent Memorial Day and served it with tomatoes and these Root Beer Baked Beans and it was just perfect so put them on your list too for your next get together or family dinner. Might as well round it off with this Caramel Banana Pie with Bourbon. See...there's your menu for any get together you have planned; hope you'll try one or all and from me to you? Happy Summer!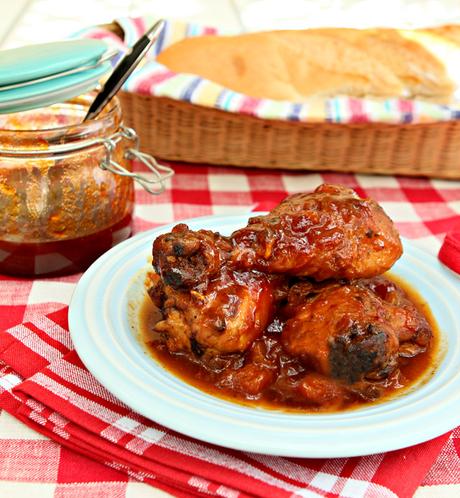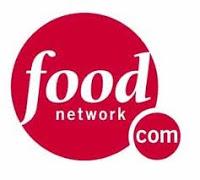 Summer means easy dishes, cooked out on the grill or something that requires less time inside. Maybe even salads or sandwiches. Nothing fills those needs quite like chicken! This week
Food Network's Summer Soiree
celebrates all things
Chicken.
Be sure to check out these wonderful recipes from my blogger friends and the Food Network.