Low level heating can be an idealsolution where wall space is limited. The Smiths Sureline Perimeter Range onthe Discounted Heating Website offers a natural convector design that fits discreetlyat the skirting board level making it a fantastic alternative to the more traditionalradiators. Suitable for both domestic and non domestic properties it's easy toinstall, efficient and low in price. Overall a fantastic product!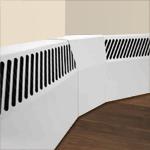 Smiths Sureline 1000 Natural Convector-Perimeter Heating (1000mm length)
Supplied complete with heat exchanger, casing, back plate and joining strip.
• Height: 180mm
• Width: 1000mm
• Depth: 76mm
• BTU/h: 2600
• Watts (per meter length): 750
• Low level discrete heating
• Connects to and runs from your central heating system (22mm pipe work)
• Installed at skirting board level
• Can be controlled by TRVs or remote sensor
• Casing available in any color (special order)
•5 Year Parts and Labour Manufacturers Warranty
Finish
• Outer casing 0.7mm zinc coated steel
• Polyester powder coated
• Paint specification: textured white BS 4800 00A01 18% gloss
• Each length includes casing, element, backplate and joining strip
• Casing only includes casing, backplate and joining strip
Attachments
• LH and RH valve box/end stop kit (includes casing and backplate with integralend stop)
• Centre valve cover
• 90° internal corner.
• 90° external corner
• 135° internal corner
Installation
• Minimum clearance above floor 50mm
• Flow and return connections 22mm copper
• Designed for system pressures up to 10 bar

Discounted Heating UK
Price Match and Quality Service
Over A Decade in Business