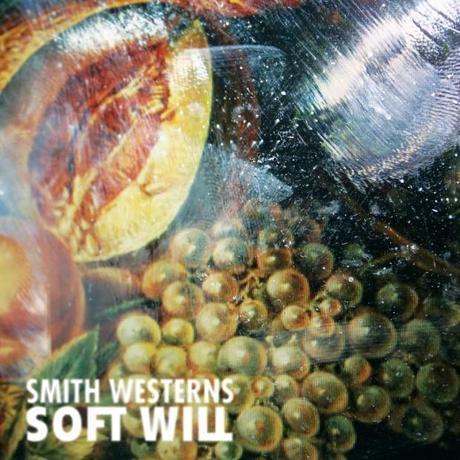 From the very beginning of Smith Westerns' third full-length album, Soft Will, it's clear that this band is confident in their matured, summery, poppy sound. Considering that the band (Max Kakacek on guitar, brothers Cullen Omori on vocals/guitar and Cameron Omori on bass and Julien Ehrlich on drums) formed while they were in high school, it's no surprise that their sound would grow and form with each new release.
The band has always been reminiscent of groups like Oasis, The Beatles and I would even say The Beach Boys, but the garage rock quality that defined both their self-titled debut and 2010′s Dye It Blonde has given way to a more intricate, complex sound that still captures their happy-go-lucky vibe.
The first track, "3am Spiritual", has the perfect sing-a-long chorus and happy feel, and about three minutes in, the track goes to a place that sounds like it could come straight from Sgt. Pepper's Lonely Hearts Club Band. The pop sensibility continues throughout the album, especially prominent in the guitar hooks in "Idol" and my favorite track, "White Oath", and the melodic vocals in "Glossed" and "Best Friend". "Fool Proof" has one of the catchier arrangements on the album, starting with a hook that reminds me of the DeVotchKa songs on the Little Miss Sunshine soundtrack. The way it shifts tempo with the introduction of different instruments, though, prevents it from becoming boring or sounding too much like anything else.
While it's clear that Smith Westerns have grown up and cemented their sound in the psych-pop, 60′s-tinged rock space, despite the modern electric and piano accouterments, this album tends to sound pretty uniform. There are, of course, exceptions to this rule – the piano work on the instrumental "XXIII" reminds me a bit of the final songs on Pink Floyd's masterpiece album, Dark Side of the Moon, "White Oath" and "Only Natural" have a more serious, darker feel and the synths on dreamy album closer, "Varsity", are very unique. Still, I can't easily identify the majority of the songs on this album unless I'm looking at the track listing.
This is a trap that every band falls into at some point, though, and has as much to do with production as it does with the band itself. In this case, the similarity between the songs isn't all that problematic because it highlights how consistently good and tight Soft Will is. I really can't think of a better summer soundtrack.