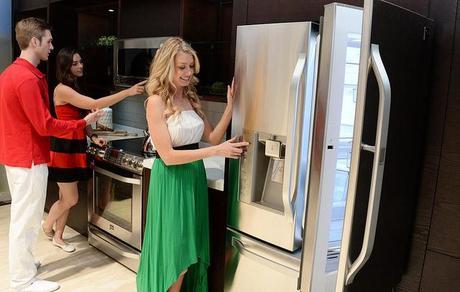 Visitors at the 2014 CES show check out the latest appliances for the home. Photo courtesy LG.
The annual Consumer Electronics Showcase, better known by its acronym CES, is taking place in Las Vegas this week. As in years past, CES is the big event for companies and innovators to show off near-future technology and the latest product offerings for electronics – which today includes everything from phones, computers, cars, and especially for us at Goedeker's, home appliances.
Earlier this week we brought you up to speed on the announcements from our favorite major home appliance brands, and many of them surrounded the idea of the connected or smart home of today and the soon-to-come future.
The Internet of Things
One of the CES buzzwords we at Goedeker's are most interested in is "The Internet of Things." The concept of an Internet of Things is the growing number of items that are connecting to and using the Internet in our everyday lives. Alarm clocks, air conditioners, cars, refrigerators and slow cookers – all "things" that are becoming more connected to one another and relying less on human intervention or direct human control.
The Internet of Things is not a new term, as it has been tossed around for years, but it is really coming alive at this year's CES.
Among the new products and technology LG has announced at this year's CES event is their HomeChat system, by which you can control connected devices via a texting or chatting interface on your smart phone. By telling your home via text "I'm going out of town next week," connected appliances automatically know to power down, turn off, or adjust their routines for an empty home for the next several days.
Samsung revealed their foundation for a smart home platform that lets you manage your appliances from a single application on your smartphone. This interface will also be able to recognize voice commands via your Samsung smartphone or intelligent TV remote.
GE updated their existing smartphone app to expand its functionality, demonstrating control of an oven via the internet at CES.
Electronics manufacturer Belkin showed off WeMo, their proprietary system for connecting the home, complete with WeMo light bulbs and a slow cooker, co-branded with the iconic Crock-Pot brand.
Appliance manufacture Haier announced that they now have the first certified appliance on the Apple MyFi network - an air conditioner.
Those are just the highlights from the big brands at CES. A few months ago we profiled Neurio, an independent project to connect the home that had a very successful Kickstarter campaign.
 Is Your Home Really Getting Smarter?
We keep referring to computerized items as "smart," such as smartphones, smart cars, and smart homes. But does technology in and of itself make everyday things smart?
One product raising eyebrows at CES is a cutting board/ iPad stand that seems to be a dangerous combination. How many people will cut their own fingers while watching reality cooking shows or contract salmonella from left over meat juices that splashed on their tablet?
Innovator Tony Faddell, co-founder of Nest and creator of a smart smoke detector and thermostat, has criticized the idea of merely adding technology and screens to appliances and dubbing them "smart."
"A lot of people are creating new things, like, oh, we're going to put a tablet on a refrigerator," Faddel told CNET in an interview. "To me that makes absolutely no sense. You have a great interface with you at all times in your phone or your tablet, you take with you. Why put another one on a refrigerator that you have to maintain and update."
Bugs In The Smart Home
The most serious bugs in the home we used to have to worry about were termites and carpenter ants. Now, computer bugs and technological issues could become a crippling problem. That's not to say connected technology is bad for our homes, but that companies and home owners need to be smart in evaluating what will work best for them, and not what is flashy and cool.
Here are some questions that need to be asked as these technologies come off the pages of science fiction and into our everyday lives:
Will they be compatible? Do I need an LG phone to talk to my LG refrigerator, and a GE app to control my GE oven and range? What if one companies app doesn't like another company's appliance? Will the internet connectivity programs become a way that manufacturer's try to push us towards brand loyalty?
Will manual control options still exist? The nightmare of arguing with an entity like HAL 9000 from 2001: A Space Odyssey comes to mind. The last thing you need when trying to do a quick load of laundry to get your work clothes clean is a computer interface telling you, "I can't let you do that now." Hopefully manual controls will not be neglected or limited as digital and connected interfaces become more popular and possible.
Will repairs become more complex? Will an appliance repair tech have to have their mechanical skill and know how and the technological skills of a PC repair tech? Will the parts for a connected appliance be more expensive or harder to obtain?
The Future Is Now
We can look back and laugh at what people thought the future would look like in the past, but what will the people of the future think of our new gadgets we are unveiling today?
The world of today and tomorrow is definitely exciting and there is much we can look forward to as technology becomes a more integral part of our lives. But not every "smart" idea is going to turn out to be an intelligent one.
What do you thing about the smart home technology and connected appliances that are coming out today?