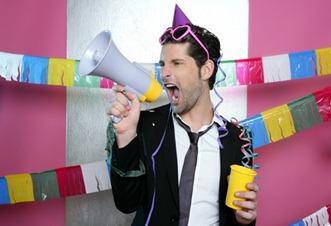 I often recommend business networking as the most effective way for a startup founder to find investors, advisors, and even key executive candidates. But what if you are an introvert, or new to this game, and don't know where or how to start?
I have learned over the years that there is an etiquette to this process, just like there is for social networking. Here are a few of the "do's":
Post your profile on LinkedIn and Twitter, and join in relevant discussions. There are other networks that also work, depending on where you are in the world, like Ryze, Plaxo, and Facebook, but setting up an account on MySpace probably won't help you.
Join and actively participate in local business organizations. Business groups like TiE-The Indus Entrepreneurs and EO-Entrepreneurs Organization are places to meet people you can help, as well as people who can help you. Remember it helps to give a little to get something back. Another place to start is the local Chamber of Commerce.
Get introductions from existing business contacts. Start with the people you know, who know your work, and would recommend you to others. It isn't always the first introduction, but the friend of a friend that may be the one that pays dividends.
Volunteer to help out with entrepreneur activities at your local university. All universities love and need to get help from people in the "real world" for coaching and judging activities in their Entrepreneurship and MBA programs. In return, you will meet or be connected to many people who can help you.
Attend an investment conference. These events are swarming with potential investors, and this is the forum where they are actively soliciting new opportunities, so don't be shy about handing out your business card at breaks, lunch, mixers, or scheduled activities.
Join a local investment group. If you can meet the SEC "accredited investor" criteria ($1M net worth or $200K annual income), this is a great way to be seen by potential investors as peers before you need money. Plus you will see how the process really works from the other side of the table – the best preparation you could have for your own approach later. In most cases, these groups don't require that you invest in others, as a condition of membership.
If all of these are obvious to you, then you are already on the right track, and you probably wouldn't consider doing any of the "don'ts."
Don't do cold calls or email blasts of your resume and business plan to potential investors.
Don't corner and barrage that heavy hitter you heard about with your life history at a social gathering.
Don't send your unfinished business plan unsolicited to every VC or investment group you can find in the phone book, just to see if they like the concept.
Don't hand out your business cards to everyone in the room, in hopes that one will be impressed with how unique and expensive it looks.
On LinkedIn, don't complain to everyone that you are limited to only 3000 invitations, and request them to send you an invitation to become friends.