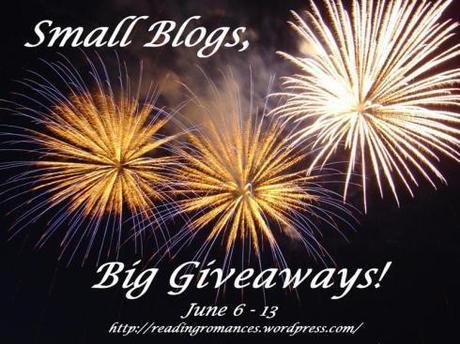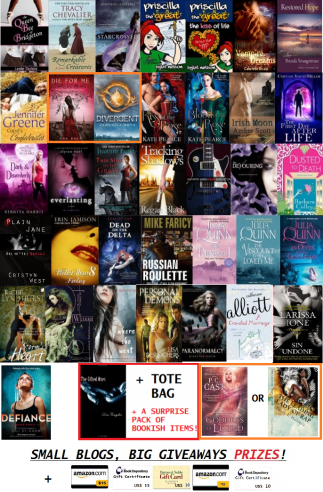 37 Books + 11 Gift cards =
48 PRIZES!
SIGN UP TO WIN NOW!
Read the full list of prizes and all the information here!
WOW, amazing giveaway, am I not right?! And this is very simple, what you have to do to win some of those amazing prizes is to sign up using the inlinkz and…That's it! If you want extra entries, please go to our hosts and see what you can do to win them! I bet you'll findsome amazing new blogs and follow them to show support! Please READ THE RULES!
HOSTS
Organized by: Reading Romances(+5 is the number of extra entries you mat get here) Leave a comment, Become a follower, tweet/blog or link about the giveaway. Will be hosting a giveaway on june 17th.
A Bookish Affair (+1)
A Little Sun Shy:(+3)- Also giving away for the EU readers, a hardback copy of the latest Sookie Stackhouse novel, Dead Reckoning!
A Simple Love of Reading (+2)
Addicted to Books (+1)
Alexa Loves Books (+3)
Books For The Insomniac (+3)
Book Savvy Babe: (+5)
Curiosity Killed The Bookworm (+3)Also hosting the pre-loved giveaways !
Gabrielle Bisset: A Writer's Blog : (+4)
Kindle Fever (+1)
Laurie's Thoughts and Reviews (+5) Will also be having a BONUS Giveaway.
Let's Book It (+4)
Love, Laugh and Read (+3)
My Book & Me  (+5 entries)
My Chaotic Ramblings: (+3)
Proud Book Nerd: (+5)
Read Me Bookmark Me Love Me (+5)
Reads With Wreckless Abandon (+4)
Reading Lark (+3)
Reading Rendevous Reviewz  (+3)
Release Notes (+3)
Romancing the Darkside (+3) Also hosting: Save My Soul Blog Tour: Excerpt & Giveaway – June 9th
Sweeping Me (+5)
So Many Books, Here's Mine (+3) Also hosting: Sizzling Summer Setting Writing Contest.
The Magic Attic (+5) Will also be hosting blog tours during june 6-13!
Rules:

1.Sign up using the inlinkz tool(you only need to do that once for the big giveaway, the SAME inlinkz will appear on all blogs).
1.2 Go on each blog and find how you can earn more entries. Then use send your entra entries by filling out the form.
1.3Read the blog rules to know how to sign up for the prizes other blogs might be providing.
2.This is an INTERNATIONAL giveaway
3.You must be at least 18 years or older, or of legal age in your country.
4.The contest will end on JUNE 13th at 11:59 pm GMT and winners will be posted after they have been selected.
5.Winners will be selected using Random.org 5.1The winners will be notified by email and announced on all hosting blogs. 5.2 The winners will have THREE days from the date they are posted to provide a mailing address. If you do not contact me within three days a replacement winner will be selected. NO EXCEPTIONS.
6.Each blogger will be responsable for mailing the prize they provided. No replacements will be made. Your email address will not be saved or used for any other purposes then to contact the winner in the contest for their mailing address.
6.1 (Your blog's name here) is not responsible for other prizes that are not honored, distributed in a timely manner, lost, stolen, or damaged during transit.
7. All giveaways are subject to change/cancellation without prior written notice.

Winners:




The more participants we get, the more prizes we'll give!

The first winner will choose 13 items (including the maximum number of 2 gift cards)
The 2nd will choose 12 items after the 1st winner has chosen(including the maximum number of 2 gift cards)
The 3rd will get 10 items after the 2nd winner has chosen (including the maximum number of 2 gift cards)

The last 2 books will be given to one of our lucky hosts – who'll be selected using random.org! In case any gift cards remain, they'll also be awarded to our hosts.

If we reach 50 sign ups I'll select one random lucky winner to receive one of the gift cards listed!

If we reach 100 sign ups I'll select another radom lucky winner to receive one of the gift cards listed!

If we reach more than 200 sign ups, by the end of the event I'll select THREE random lucky winners to receive one of the gift cards listed each!
How you can get Bonus Entries HERE:
1. +1 entry for leaving a comment
2. +2 entries for becoming a follower (networked blog, twitter or RSS)
3. +3 entries for tweeting about the giveaway/blogging about it/ linking via your sidebar (don't forget to share the link!).

Send your extra entries by filling out this form!
To sign up to HOST the 2nd edition of this event, please answer this form!
Event's Blog