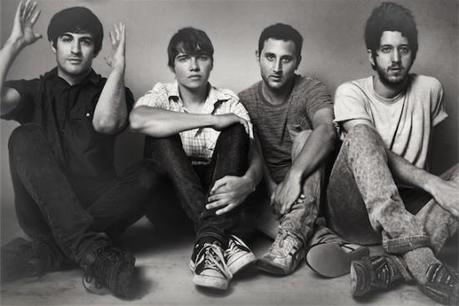 Two Rivers – Small Black (feat. Heems)
Brooklyn four-piece Small Black (@smallblk) emanates dreamy melodies that manage to transcend the boundaries of musical genres. With songs that feature fuzzy beats glazed in swirling synth-pop sounds, the group constructs a very novel brand of indie lo-fi magic. After the successful debut of their self-titled EP and positive appraisal of last year's New Chain, the band is now flipping to the next chapter of their personal narrative and paying tribute to influences that reside in the world of hip-pop. Drawing inspiration from world-renowned DJs, Small Black masterfully blends their own aesthetic with samples and beats from artists that range from Nas to Das Racist MC Heems. The fruit of their labor is their mixtape, Moon Killer.
Standout song "Two Rivers" places Heems's cool and composed raps against their own sweeping melodies and rugged rhythms. Their other songs continue to mix and match samples from a variety of sources, adhering to a formula of complete flexibility. Through this liberating (and label-free) approach, the final compilation of songs conveys an unmistakable air of fun and ingenuity. Small Black's full LP promises to please chillwave aficionados and hip-hop lovers alike, so keep an eye out for its arrival on November 11th.