If you were expecting something saucy for your troubles after a title like that, I'm sorry to disappoint but this is (nearly) all about our feathered friends.
When it comes to
small birds
, there are goldfinches aplenty in my neighbourhood. They often sit on the phone wires or tv aerials and can be both seen and heard twinkling overhead, singing away - but they never descend into my garden to feed. They were the reason I originally installed bird-feeders with nyjer seed (beloved of finches) and sunflower seed to tempt them to do more than just fly over or chatter at rooftop height. It hasn't worked to date.
Instead, the regular birdlife in my back garden comprises the usual robin and wren, a couple of raggety blackbirds who crop the cotoneaster berries and a noisy tribe of great tits -
Parus Major
don't you know?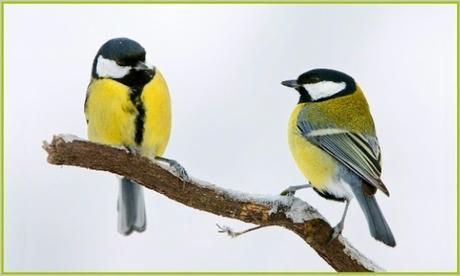 Parus Major - a fine pair
These latter are my pride and joy. They actually nest in a parcel of trees a couple of gardens away, but they seized on the supply of goodies the finches were too sniffy or too stupid to eat and I now have a constant stream of great tits regularly progressing through the acers and fuschias at the bottom of my own garden before darting to the hanging feeders seemingly at any time of day - and if supplies of seed run low, they certainly let me know. The most I have noted there at any one time is five - I assume parents and juveniles. More fools the goldfinches.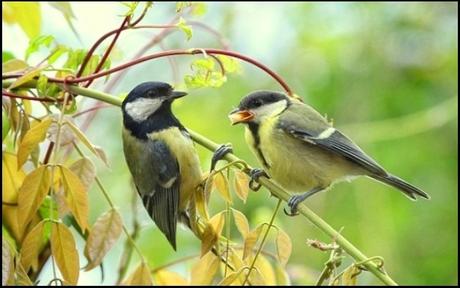 What I've learned about great tits is that, apart from being the largest of the tit varieties, they are also the most intelligent. It was the great tit rather than the blue that first discovered how to pierce milk bottle tops to get at the contents (this back in the 1920s), a skill they were happy to share. Males will 'sing' in different voices to make other birds think there are more of them defending the territory than there actually are. Great tits are monogamous and generally hatch two broods in a year. In the summer they are mostly insectivorous but are happy to accommodate their diet to whatever is on offer and they have adapted very well to live alongside human beings in our gardens.  What they seem to enjoy most is sunflower seeds, so I maintain a constant supply.
They can also learn to be very trusting and I've even had one eat out of my hand. If you're not a small bird
aficionado
, the easiest way to distinguish a great tit from its bearded, blue, coal, crested, long-tailed, marsh and willow relatives is by the black stripe running vertically down its front. They really are the most charming of small birds and I feel privileged to have them share my garden with me - though they probably consider it theirs.
It's a while since I've written an E Jarvis Thribb pastiche (
Private Eye's
spoof poet-in-residence if you didn't know) so here goes...
Great Tits
Keith and his family live in a council house
on the new estate at the edge of town,
red-brick, four-square, with a patch of lawn.
We're always dropping round at week-ends
or after school. It's cool there.
Not so long ago it was fields and hedgerows.
I wondered where all the birds would go
when the builders moved in
but Keith's dad's a bit of a fancier
and a dab hand at making things,
works at the guided weapons factory,
so he's fettled up nesting boxes
and a feeding table and the great tits love it.
We watch them with their velvet caps,
jet black eyes, olive backs and yellow bellies
flitting all about their garden paradise
and it's strange to think
they are descended from dinosaurs.
Adapt or become extinct, Keith's dad says,
though he won't allow his son to go
on ban-the-bomb marches with us
and he votes Tory. It makes you wonder.
Keith's mom is nice to us, plus she's well-endowed,
but Keith goes red and tries to thump us
if we ever mention it. I wish he had a sister.
His dad also says we've never had it so good
which makes me feel sad when I consider
that one day he'll go mad because of his job,
Keith's mum will lose her figure to the bottle,
this council estate will become
a busless, birdless, blighted slum
and Keith will work to legislate tax breaks
for the rich and the dismantling of the welfare state.
It's all a bit crap really, the future.
Thanks for reading. Keep on feeding our feathered friends, S ;-)
Email This
BlogThis!
Share to Twitter
Share to Facebook
Reactions: