Since we moved to Blackpool about two and a half years ago, we have been trying to encourage some small, attractive birds into our garden.
We have everything such a bird could possibly require. A sheltered, quiet area with small trees, plants and flowers. There is an appropriate 'bath' of water in which any bird can have a wash, splash about or a paddle. We also have two bird feeders in the small trees full of tasty treats and a larger feeder which is full of bird food.
What is the result of this attempt to seduce small, attractive birds into our garden?
All we have seen are several pigeons and a few seagulls.
I guess we must put it down to the urban/seaside environment in which we live. When we go walking or cycling through Stanley Park and on into the Fylde countryside, then we do see a variety of small birds.
However, if there are any ways that you know to encourage small birds into your garden, please

do pass them on.
Blackpool, however, is not without its attractive different birds, as the starlings show us when they appear in formation over the piers. My poem for this blog is on that theme: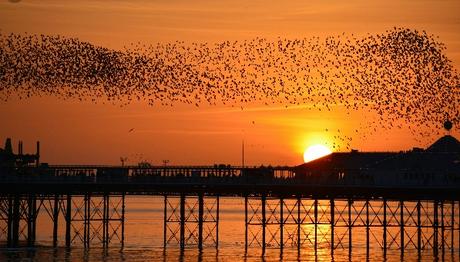 The Starlings
Come with me down to the beach
to hobble over the pebbles,
and stand in our old age
under a dusky canopy of fading light
watching the starlings

make a fearless rise heavenwards,

twisting, curling and diving

into the descending darkness –

  hovering for a moment above the pier

then stretching across the whole sky

and recoiling

to form a tight beating heart.

 

Unlike the starlings, whose instincts are seen,




darting, halting, dipping, gliding

in the solace of each moment;

our dreams have been hidden,

  yet can be seen in our love,

how you plucked me out and kept me,

how often you helped me fly

in the fifty years of formation;

  hold me now, old lady,

our lives will soon be forgotten

like the shell of the crumbling pier,

where starlings roost after dark.

 

David Wilkinson







Email This
BlogThis!
Share to Twitter
Share to Facebook
Reactions: