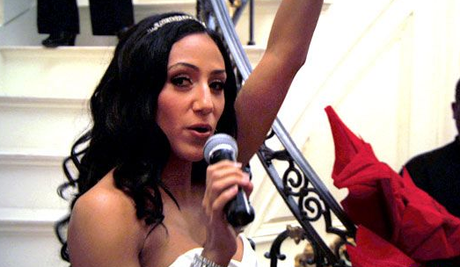 "The Holidays should always be about Me, Prada shoes   and the Baby Jesus."
Forget all about those construction paper and glitter Nativity scenes played out by pint sized Sunday schoolers back in your hometown.  Those 2nd grade shepherds were crazy cute with their little Macy's bath towels wrapped on their oversized heads and potato sack vests with the arm holes cut out.  The Cabbage Patch doll laying in a straw filled kitty litter box made for some great Polaroids and was a nice touch.  And if the Fire Marshall was down with it, you even lit real candles with those little paper discs to catch the hot wax, even though it somehow always dripped onto your good pants no matter how steady your grip was during the last hymn.
And while you're are it, you might want to forget everything that Hallmark and It's A Wonderful Life ever taught us, as well.  Seriously.  Put it out of your minds.  Now.
Because thanks to The Real Housewives Of New Jersey, there's a whole new Holiday tradition.
Every time a bell rings, an Angel gets her Bling.  And it's Designer, bitches.
Just in time for QVC's Christmas in July Shopaganza this week, The Housewives treated us to how the Holidays are supposed to be done.  And it's called Over the Top.
So there's no confusion, there is Over The Top.  And then there is "Over…The…Top" with dramatic Party Planner pauses strategically placed between each word.  Money is no object when throwing a party, because after all, it is for the Baby Jesus, as Melissa stated in every soft focused confessional headshot.  It's also important to make sure that your party is bigger and better and more glittery than anyone else's party.  No such thing as too much glitter.  Just like the Nativity scenes of our youth.  Except the glitter is crushed Swarovski crystals.  And Teresa probably broke it over someone's head while screaming "Don't you ever disrespect my family!"
These woman put the eXcess in Xmas.
Melissa dug deep into her husband's pockets and found $50,000 to spend on Jesus' Birthday Party.  I'm thinking a bouncy castle and a pony would have come in a little under that final tally, but that's just me.  You could probably toss in a Balloon Guy, too.  The kind with the cool squiggly balloons, not the long skinny ones.  The excess was justified though, because she had to spend more to get "pretty" food servers.  Of course.  I don't want some Mall Cop serving me my pigs in a blanket.  I worked up quite an appetite fighting my way past the valets, self portrait ice sculptures and warbling carolers in the Gorga's loopy Knots Landing driveway, so I certainly don't need someone ugly passing the cheese dip.  Der.
Note to Melissa on making sure you get the most bang for your 50Gs:  Obviously having never watched any MTV show ever, you want to make certain that all your bitter enemies get an invite, that they are all crammed into close quarters regardless of the actual size of your real estate, make sure the booze is plentiful and free and then act surprised when they start to throw down in your media room.  The infamous Kim "G" shows up, who is apparently much more of an instigator than Kims "A" through "F" ever were.  Milking her 15 minutes into another season of cameos, she tried to stir the pot by bringing as her guest the same lawyer who is suing Teresa and her piece of work husband.  I know, right?  Like she doesn't know anyone else in town?  You know Danielle wasn't busy that night.  No wonder Andy Cohen always smiles.
The whole thing was so crazy bad that it was good.  Somewhere along the line I think they forgot whose birthday party it was, because I don't remember that much swearing at my last Nativity Pageant.  I hope the Bravo censor dude got Holiday pay for bleeping out every third word that night.  His little red bleep button finger must have cramped up at some point.  Teresa's soul mate is always good for a few potty mouth moments, and he didn't disappoint.  After being called out for another $1000 that he supposedly owes to yet another family member, he blew his weekly nutty but apparently didn't want to mess up his Hot Topics dress shirt with a rumble.
One of the classic lines of the evening actually took place right before the Extravaganza.  While discussing the IOUs and the bankruptcies, Teresa was getting all sheltering Mother Hen on her girls.  She casually mentioned that she had told the little Giudicettes that Daddy had been away on work when he was actually in the Slammer for whatever he got caught for the last time.  She didn't want the girls to remember anything bad about their childhood.
Umm.  Hold up.  Do a quick 360 in your living room, Tre.  See anything that looks like a television camera?  Those girls might check out a DVR at some point.  Sooner or later they might even learn how to read, and when they get older and hit up The Gatsby Salon down the Pike to (finally) get their eyebrows (seriously) tweezed there's a good chance they might pick up an OK Magazine.  It's every parent's goal, at least since Escape from the Planet of the Apes, to protect their young at all costs.  But seriously?
Maybe that is something that you should have pondered before you signed that Bravo contract.  In glitter glue, of course.
Have another sugar cookie and chill.  It's a (bleep)in' Birthday Party for (bleep)'s sake, you stupid (bleep.)
Happy Christmas in July, everyone.