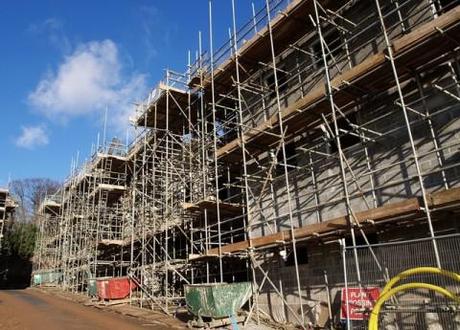 Houses under construction: soon to be a common sight? Photocredit: Geograph
Great Britain is in a bind. Some want to protect our green and pleasant land from rampant house-building; but where will all the homeless people go? Are we returning to the era of slums? Quite likely, it seems, as new reports suggest that the condition of housing in Great Britain is among the worst in western Europe. The Pro-Housing Alliance wants the government to drop housing benefit cuts, and warns of a return to the "uncrupulous landlords" of the 1950s and 1960s, such as Peter Rachman (who exploited his tenants ruthlessly, driving out white tenants from his Notting Hill properties, and filling them with black tenants, who at the time were not protected under the same rules). It recommends building 500,000 new homes over the next seven years, including bringing empty houses back into usage.
Read the draft National Planning Policy Framework here.
This comes on the same day as the Government's new planning rules come under scruitiny. The new rules require councils to publish details of land available for development, reported Christopher Hope in The Daily Telegraph. Hope quoted "a senior aide to Greg Clark, the planning minister," who "warned that the new regulations could lead to unchecked development." The National Trust is up in arms about the regulations, which suggest that planning applications "should assume that the default answer to development proposals is 'yes' except where this would compromise the key sustainable development principles set out."
"If the Government bulldozes through these short-sighted planning proposals it will create a building free-for-all that will blight our countryside with bad building – and stop the good building we need." said Friends of the Earth's Policy and Campaigns Director, Craig Bennett, quoted on The Huntingdon People.
A return to the slums? Andrew Grice in The Independent reported that a trio of factors were contributing to the crisis: lack of affordable homes, local authority cuts, and benefit reforms. Homelessness, meanwhile, was "on the rise." In the same paper, Richard Hall described a "semi-detached house on a leafy road in East London," where "the sound of bodies stirring could be heard on every floor in the house." These "super-sheds," usually full of illegal immigrants, pose enormous health risks.
"Chavs in the countryside?  No thanks," commented boeingboy on The Daily Telegraph.
It's nothing new. The Independent also ran a leader in which they said that this wasn't a new problem, but it's only now that planning laws and rocketing property prices have caused the storm to break. What's worrying is that nobody seems to have any answers. Look at squatting – some say it should be criminalised, others that it does a service to society. The fact is we don't have enough houses. House-building's at the lowest level since the 1920s. Buyers can't afford it, so rents go up, meaning "unscrupulous landlords" can rule. There are solutions: reining in housing benefit cuts, improving opportunities for house-builders, using the Green Belt intelligently. There are also 300,000 empty houses in the UK. We need "bold and innovative thinking. And we need it quickly."
"We're not prepared to enter into such talks until we have a clear statement, from the highest levels of government, clarifying that the planning system is not there principally to promote economic development," said Dame Fiona Reynolds, director of the National Trust, quoted on the BBC.
Hands orf my allotment! David Derbyshire on his allotment blog in The Daily Mail wondered if these planning reforms would threaten allotments. There's a huge waiting list for allotments, and if these planning laws go through, then there will be an even longer wait. We shouldn't favour profit in planning – how is that going to promote allotments?