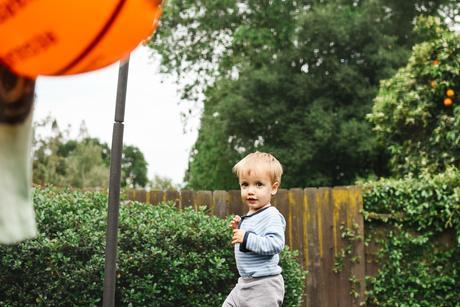 Have you ever driven behind someone who is lost? You know they're lost because they're cruising ten miles under the speed limit, slowing down at each intersection before re-consulting their GPS.
This makes me absolutely crazy.
(I recently took a personality test that identified my main emotion as anger. Ha! Me? Angry? No. Couldn't be. I am an eternal optimist! A dreamer! A cheerleader! People refer to me as "bubbly"! What in the world?)
A few weeks ago, I was driving behind someone who was lost and it took every ounce of self control to not scream out loud in my car.
MMMOOOOOOOOOOOOVVVVEEEEEE.
Come to think of it…..trying to get out the door with two little children is kind of like driving behind someone who is lost.
***
We are late. All of the time. Every single time. Every single day.
One day last month, I was super proud of myself for getting to preschool five minutes early. Preschool starts at 9am and on very good days we get there around 9:04. So you can imagine my pride the day we strolled into the parking lot at 8:53. The doors weren't even open yet for crying out loud. It was a whole new world.
I stepped out of the car and waved to a fellow preschool mom in the parking lot.
Oh hey! Nothing to see here! Just another prompt mom, dropping off her kid EARLY! No big deal!
I smiled.
And then I opened Everett's door and realized he wasn't wearing shoes. Carson was wearing shoes, the kid who was only in the car for the ride and didn't even need to be wearing shoes. But Everett, the kid who was ready to run around a playground and ride a bike for the next hour during outdoor play, was only wearing socks.
Of course.
***
Both of my kids started walking when I was out of town. I bore witness to their first steps, but that was it. They'd take two steps here, four steps there, teetering around from the coffee table to the couch, an accomplishment that led me to clap and cheer as if I'd never seen anything more impressive in my entire life.
Then I left for Liberia for two weeks.
And Everett started walking.
Then I left for Palm Springs for a weekend.
And Carson started walking.
Before I left, I had seen maybe five steps from Everett. Probably seven steps from Carson. When I came back, they were practically running laps around the kitchen. There must be a psychological explanation there, right? Something about a mother not picking up her child for multiple days that prompts a sudden desire and animal-like instinct to move one foot in front of the other? Survival of the fittest and all that? I can totally see Carson conceding defeat: welp, momma's not going to carry me around today so I guess I'll have to start walking now. Humph.
The best part about your kids learning to walk is the novelty of it. No joke: for two straight weeks, Carson barely played with a single toy. Who wants to play with blocks when you can walk laps around the dining room table? It was amazing to see my Velcro baby not only becoming independent, but enjoying his independence, stumbling around the house with a giant grin on his face. I'd say I was 98% happy and 2% sad about it.
Of course, now he wants to walk everywhere. While he's certainly gained some momentum since those first wobbly steps, he is still undeniably slow. He's slow walking into the gym, slow walking into church, slow walking to the park. I used to carry him on my hip at my pace, which is naturally set to somewhere between quick and efficient.
….not anymore.
Nowadays, I feel like I'm constantly driving behind someone who is lost. I can't make these kids move faster, I can't go around them. I'm simply stuck in permanent slow mode.
But this is motherhood, you know? The only thing that goes fast around here are the years. Everything else is slow as molasses. These days, these sleepless nights, this whack-a-mole bedtime routine, that thirty-minute process of getting three people into the car with all the bags and all the things.
But if you stop and look closely, you will see a tiny bit of magic in that transformation. Slowly but surely, they're growing into themselves. And so am I.
I just have to slow down to notice it once in a while.
This post was created in partnership with Lily Jade, makers of the most beautiful diaper bags ever.
The Lily Jade #storyofmotherhood Giveaway!