New to little Indiana? Subscribe for free to my RSS feed. Thanks for stopping by!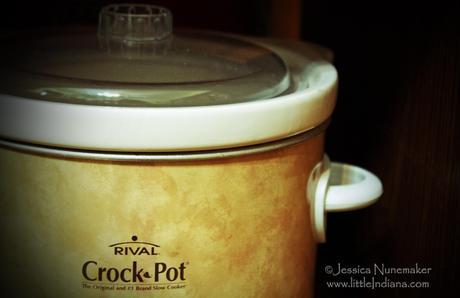 Slow Cooker Recipes: Spinach and Artichoke Dip
Slow cooker recipes
little Indiana
Since my love affair with the slow cooker began, I've found  more and more ways to use it! Having something yummy but simple to make, well, it kind of gets me right here.
The original recipe came from the Food Network, however, commenters insisted on adding additional ingredients. I completely agree. While I have a baked recipe I adore, this is an easy switch when time is tight.
Slow Cooker Recipes Spinach and Artichoke Dip
Print Slow Cooker Recipes: Spinach and Artichoke Dip
I found this recipe from the Food Network. While the original recipe only had a handful of ingredients, ending with salt and pepper, as you can see, others mentioned the addition of plenty more!
Think of this as your base to play with.
Ingredients
1 Cup Smoked Mozzarella
1/2 Cup Grated Parmesan Cheese
8 Ounces Cream Cheese
2 Garlic Cloves, Minced
1 Box Frozen Spinach, Thawed
1 Jar Artichoke Hearts
Salt and Pepper
1 teaspoon Liquid Smoke
1/2 teaspoon Worcestershire Sauce
1/4 teaspoon Cayenne Pepper (optional)
1 to 2 teaspoons Red Pepper Flakes (optional)
Garlic Powder (to taste)
Instructions
Combine all ingredients into a slow cooker.
Cover and cook on high for 2 hours.
Serve with Tortilla Chips, Bread, Crackers, etc.
Enjoy!
Schema/Recipe SEO Data Markup by ZipList Recipe Plugin2.0
http://littleindiana.com/2011/11/slow-cooker-recipes-spinach-artichoke-dip/
Photos are the Property of little Indiana. Do Not Use Without Permission.
little Indiana: Where to Stay, Play, and Eat in Small Towns in Indiana. Discovering Indiana's best small towns! Now get little Indiana on your Kindle.
Targeted. Relevant. Affordable! little Indiana advertising.