557 Flares
557 Flares
×
New to little Indiana? Subscribe for free to my RSS feed. Thanks for stopping by!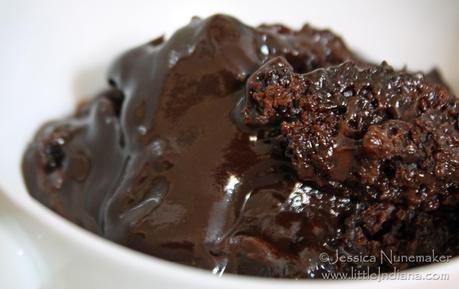 Slow Cooker Recipes: Chocolate Molten Lava Cake
slow cooker recipes
I've used my slow cooker for many things: Dips, dinners, and fondues, but I had yet to bake a cake in one! This recipe has converted me. This. Was. Awesome!
Fudgy, moist, and warm, serve it with Vanilla ice cream. It doesn't get any better than this slow cooker chocolate lava cake recipe from Life as a Lofthouse blog.
Slow Cooker  Recipes: Chocolate Molten Lava Cake
Print Slow Cooker Recipes: Chocolate Molten Lava Cake
From Life as a Lofthouse Blog.
This was really good. Hubs can't stay out of it!
Ingredients
Slow Cooker Chocolate Molten Lava Cake
FOR THE CAKE:
2 cups Brown Sugar
2 cups All-purpose Flour
6 Tablespoons Unsweetened Cocoa Powder
4 teaspoons Baking Powder
1 teaspoon Salt
1 cup Milk
4 Tablespoons Butter, melted
1 teaspoon Vanilla Extract
FOR THE FUDGE TOPPING:
1 1/2 cups Brown Sugar
1/2 cup Unsweetened Cocoa Powder
3 cups Boiling Water
Instructions
Mix together sugar, flour, cocoa, baking powder, and salt in large bowl.
Stir in milk, melted butter, and vanilla.
Spread batter over bottom of a large crockpot (this will rise so don't use the mini crocks). Batter will be stiff.
Combine brown sugar and cocoa powder.
Sprinkle over cake batter.
Pour boiling water over the top of it all and resist all temptation to stir! DO NOT STIR.
Cover and cook on High for 2 - 2 1/2 hours.
Remove lid, turn off, and let rest 30 minutes before serving so it isn't so hot!
Serve with Vanilla Ice Cream.
Schema/Recipe SEO Data Markup by ZipList Recipe Plugin2.0
http://littleindiana.com/2011/10/slow-cooker-recipes-chocolate-molten-lava-cake/
Photos are the Property of little Indiana. Do Not Use Without Permission.
little Indiana: Where to Stay, Play, and Eat in Small Towns in Indiana. Discovering Indiana's best small towns! Now get little Indiana on your Kindle.
Targeted. Relevant. Affordable! little Indiana advertising.