New to little Indiana? Subscribe for free to my RSS feed. Thanks for stopping by!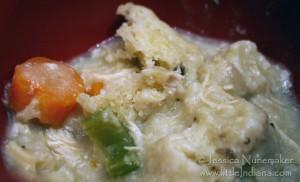 Slow Cooker Recipes: Chicken and Dumplings
slow cooker recipes
The original recipe is from Bubble Crumb Blog. little Indiana and hubby made a few changes. We wanted veggies, we were out of cream of chicken soup, and I definitely wanted to make my own biscuits for this one.
The result is comfort food at its finest! We all agreed that we could easily make this every other week for awhile and no one would be upset about it. High praise, indeed!
Slow Cooker Recipes: Chicken and Dumplings
Print Slow Cooker Recipes: Chicken and Dumplings
The original recipe was found on BubbleCrumb Blog. Here are little Indiana's modifications.
Here's a quick tip--if you have the time, saute the onion in a little butter or margarine first before adding to the slow cooker. It adds great flavor.
Ingredients
2-3 nicely sized Boneless Skinless Chicken Breasts, Thawed or Frozen
2 Tablespoons Butter
2 Cans Cream of Mushroom Soup
1 Cup Chicken Stock or Broth
1 Cup Celery, Diced
1 Cup Carrots, Chopped
1 Onion, Diced
1 Tablespoon Parsley, Dried
1 teaspoon Celery Seed
9 Homemade Biscuits Chopped into 2" Pieces (or one can of ready-made biscuits)
Instructions
Layer in everything but the biscuits.
Cover and cook on low for 6 hours.
Meanwhile, make biscuits ('cuz homemade is so much better) or chop up ready-made biscuits.
Remove lid and shred chicken.
Drop in cut biscuit pieces on top of chicken mixture.
Cover and cook 30 minutes.
Schema/Recipe SEO Data Markup by ZipList Recipe Plugin2.0
http://littleindiana.com/2011/11/slow-cooker-recipes-chicken-dumplings/
Photos are the Property of little Indiana. Do Not Use Without Permission.
little Indiana: Where to Stay, Play, and Eat in Small Towns in Indiana. Discovering Indiana's best small towns! Now get little Indiana on your Kindle.
Targeted. Relevant. Affordable! little Indiana advertising.