New to little Indiana? Subscribe for free to my RSS feed. Thanks for stopping by!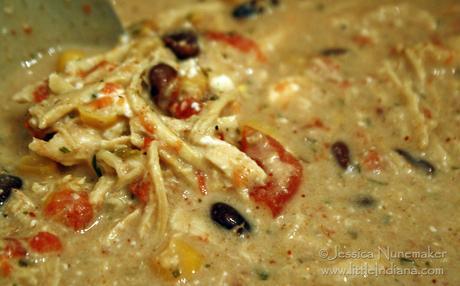 Slow Cooker Recipes: Chicken and Bean Soup
When the days are busy and the nights are cold, there's nothing better to come home to than this slow cooker recipe for Chicken and Bean Soup!
There's good stuff in here! Chicken, corn, black beans, tomatoes–it's filling and satisfying.
Kid #1 has proclaimed that we should have it every night. While we won't have it that often, it's definitely a keeper!
Slow Cooker Recipes: Chicken and Bean Soup
Print Slow Cooker Recipes: Chicken and Bean Soup
I found this while wandering the web, however, the blog I found this one on did not credit the original poster--and had not yet made it themselves!
So, it's not mine and I do not know who shared it first.
Ingredients
1 Can Rotel
1 Can of Corn
1 Can of Black Beans (drained and rinsed)
2 Frozen Chicken Breasts (1 if it's giant)
1 packet Dry Ranch Dressing (like Hidden Valley Ranch)
1 Tablespoon Cumin (or to taste)
1 teaspoon Onion Powder
1 teaspoon Chili Powder
8 oz. Cream Cheese
Instructions
Layer ingredients in slow cooker EXCEPT for the cream cheese.
Cover and cook on low for 6-7 hours.
Shred chicken.
Place cream cheese on top.
Cook for another 30 minutes. Stir.
Serve and enjoy!
Schema/Recipe SEO Data Markup by ZipList Recipe Plugin2.0
http://littleindiana.com/2011/10/slow-cooker-recipes-chicken-bean-soup/
Photos are the Property of little Indiana. Do Not Use Without Permission.
little Indiana: Where to Stay, Play, and Eat in Small Towns in Indiana. Discovering Indiana's best small towns! Now get little Indiana on your Kindle.
Targeted. Relevant. Affordable! little Indiana advertising.