New to little Indiana? Subscribe for free to my RSS feed. Thanks for stopping by!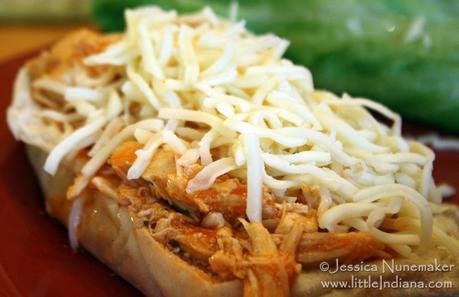 Slow Cooker Recipes Buffalo Chicken Sandwiches
I love finding new slow cooker recipes to try–and these Buffalo Chicken Sandwiches certainly sounded good!
Anything that Kid #1 can help with is a bonus. As a matter of fact, Kid #1 made this all by himself.
This is a really great recipe from My Kitchen Apron Blog. We used the whole bottle of Buffalo Sauce and it was too saucy. Next time we'll go with 3/4 of a bottle. Either way, it's a quick, easy meal–and smells as good as it tastes!
Slow Cooker Recipes: Buffalo Chicken Sandwiches
Print Slow Cooker Recipes: Buffalo Chicken Sandwiches
From My Kitchen Apron Blog.
Ingredients
1 Bag of Frozen Skinless, Boneless Chicken Breasts
1 Envelope of Hidden Valley Ranch Dip
3/4 to a full Bottle of Frank's Wings Buffalo Sauce
2 T. Butter
Instructions
Place chicken in crockpot.
Pour desired amount of Frank's Wings Buffalo Sauce over chicken (from 3/4 to the whole thing).
Sprinkle Ranch Dip Mix over the top.
Cover.
Slow cook on low heat for 6-7 hours.
Shred chicken with two forks (if it's not easily shredded, it's not done). Return to slow cooker.
Slow cook for one additional hour.
Add 2 T. butter.
Serve on nice Hoagie rolls with lettuce, tomato, and Swiss Cheese or some combination. I like a little ranch dressing on it as well (though that's probably overkill for most).
Schema/Recipe SEO Data Markup by ZipList Recipe Plugin2.0
http://littleindiana.com/2011/10/slow-cooker-recipes-buffalo-chicken-sandwiches/
Photos are the Property of little Indiana. Do Not Use Without Permission.
little Indiana: Where to Stay, Play, and Eat in Small Towns in Indiana. Discovering Indiana's best small towns! Now get little Indiana on your Kindle.
New! Offering affordable online advertising for your small Indiana business! little Indiana Businesses is the online presence that you've been looking for but without the hassle.