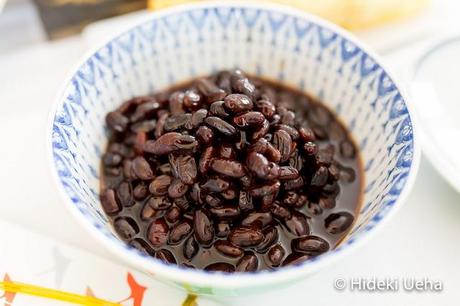 Last year, my mom taught me a new osechi ryori (traditional food for celebrating Japanese New Year) dish that she learned from a friend of hers: kuromame, or sweet black soy beans cooked in the slow cooker. [Photo Credit: Hideki Ueha]
This slow cooker recipe is a life saver, given I've burned my share of kuromame batches by forgetting about the beans simmering on the stove. The beans need to simmer for a while in order to achieve the "tender on the outside – firm on the inside" texture that is characteristic of this sweet and slightly savory black soy bean dish.
My mom's traditional stovetop kuromame recipe is available on my blog here.
I won't lie. I never liked kuromame until recently, but since it's auspicious to eat these black soy beans for good health in the new year, I recommend trying a batch if you haven't done so already. :)
Before we get to the slow cooker version for kuromame below, you'll find this recipe also available on my article for About.com here.
For reference, if you're interested in perusing some of my past osechi ryori or Japanese New Year's feast blog posts, checkout these links below!
2011 Ozoni (Mochi or Rice Cake Soup), Osechi Ryori & Celebrating Japanese New Year Traditions
2013 Japanese New Year's Osechi Ryori and Favorites
2014 Osechi Ryori and Japanese New Year's Good Luck Foods
List of Osechi Ryori Dishes on my Recipe Index
Best Wishes for 2015! Happy New Year!

Print
Slow Cooker Recipe for Kuromame (Sweet Black Soy Beans) Author: 
Judy Ung | Bebe Love Okazu
Recipe type: 
Side Dish
Cuisine: 
Japanese
Prep time:  24 hours Cook time:  6 hours Total time:  30 hours Serves: 
10 to 12
  Ingredients
1 10 ounce (280 gram) bag of dried black soy beans
6 cups water
1 tablespoon soy sauce (shoyu)
2½ cups granulated white sugar
Instructions
Wash and rinse the dried black soy beans (kuromame). Drain and set aside.
In a medium stock pot, add water, granulated sugar and soy sauce (shoyu) to make a simple, thin sauce. Bring this to a boil, stirring regularly so that the sugar dissolves and does not burn on the bottom of the pot. Remove pot from heat and allow the mixture to cool to room temperature.
Next, add the rinsed black soy beans (kuromame) to the mixture in the stock pot, and soak overnight for at least 12 to 24 hours.
Over medium high heat, boil the black soy beans and liquid in the same stock pot. As the mixture begins to boil, skim and remove any excess foam and residue. In Japanese this excess residue is known as "aku". Continue to remove impurities until the liquid is mostly clarified.
Pour the contents of the stockpot, both liquid and black soy beans, into the slow cooker.
Use a drop-dish, which is also known in Japanese as "otoshi buta" to lightly press down the black soy beans and help them cook evenly.
Set the slow cooker temperature on high, and cook for six hours or until the beans are tender in the center with a firm exterior.
3.2.1311