0 Flares
0 Flares
×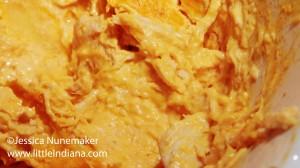 Slow Cooker Buffalo Chicken Dip Recipe
This Slow Cooker Buffalo Chicken Dip Recipe is so easy to throw together for a gathering of friends!
When using a slow cooker for entertaining, well, it makes it easy to get food ready without spending a ton of time in the kitchen.
I tweaked this recipe from a FRANK'S® Buffalo Chicken recipe to fit in with slow cooking. We love it!
Slow Cooker Buffalo Chicken Dip Recipe
Print Slow Cooker Buffalo Chicken Dip Recipe
Rating: 51
Total Time: 4 hours
This recipe is a variation of FRANK'S® Buffalo Chicken Dip. I prefer to use the slow cooker and non-canned chicken.
To each his own.
Ingredients
1/2 Cup Blue Cheese or Ranch Salad Dressing
1/2 Cup Buffalo Wings Sauce
1/2 Cup Crumbled Blue Cheese or Shredded Mozzarella Cheese
Chicken, to taste
8 Oz. Package Cream Cheese
Instructions
Layer in all the ingredients in a mini slow cooker EXCEPT for the Cream Cheese.
Cook on low for 3-4 hours or until Chicken is cooked through.
Throw in Cream Cheese and let cook thirty minutes more.
Serve with Crackers, Celery, Pretzels, or Dipper or your choice.
Enjoy!
Schema/Recipe SEO Data Markup by
ZipList Recipe Plugin
2.2
http://littleindiana.com/2013/11/slow-cooker-buffalo-chicken-dip-recipe/
Photos are the Property of little Indiana. Do Not Use Without Permission.
Small Towns: Destinations, not Drive-Thrus! I'm Jessica Nunemaker and THIS is little Indiana!
Find pictures in Indiana on my Flickr photostream or on the new little Indiana Tumblr blog.
Just don't forget to tell 'em that  little Indiana sent you!
Don't miss a moment. Subscribe to little Indiana and receive instant updates to stay on top of everything "little."
little Indiana: Where to Stay, Play, and Eat in Small Towns in Indiana. Discovering Indiana's best small towns! Now get little Indiana on your Kindle.
Targeted. Relevant. Affordable! little Indiana advertising.