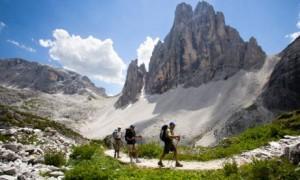 It's practically impossible to plan a trip without cramming every must-see attraction into your itinerary—and understandably so! You're traveling hundreds or thousands of miles to a new destination, and you want to make every second count!
But sometimes—and any traveler would agree—we end up stressing over the need to check everything off our list, only to end up exhausted at the end of it all.
If you're ready to go on a vacation on which you slow things down and truly learn to appreciate an unfamiliar city and its culture, you might want to consider Slow Travel. This concept, which was inspired by 19th century travel writers, is all about taking the time to explore a destination and learn more about the local culture—and it's a great way to travel.
If that sounds like something up your alley, here are some ways you can plan a slow travel trip:
Take a longer vacation. If you can afford to dedicate a week (or more!) to travel, this is the way to go. You can spend a few days or longer at different places and spread out your itinerary as a result. More time to relax and see everything on your list!
Limit your destinations to one or two places. Although the ease of country-hopping in Europe makes it more enticing to visit five countries during one trip, consider sticking to one area instead (unless you're on a three week vacation). Limit yourself to no more than a couple of towns or cities so you can still spend a few days at each destination.
Buy local. From mom-and-pop shops to lesser-known restaurants, learn to live life as the locals do and avoid the overcrowded tourist traps.
Find a new mode of transportation. Take your time as you travel from point A to point B and soak in your new surroundings. You can walk, bike, or even kayak as you tour the area. You might also want to look into destinations that specifically cater to your preferred type of travel. Cyclists, for example, would probably love going to Melbourne (Australia), Amsterdam (Netherlands), or even Fukuoka (Japan), because they are notorious for being bike-friendly.
Stay at an apartment.While this is recommended for those staying at a single location for at least a solid week, renting an apartment (if available) instead of a grand hotel is a great way to get the full the local experience. There's also the added benefit of being able to cook your own meals to avoid going out to eat three times a day.
Visit what's near you.Get to know the town or city you're staying in by focusing on different areas per day to avoid squeezing it all into one. You'll not only eliminate the stress of running from one place to another, but you'll also learn everything there is to know about your destination!
Photo from The Guardian.