0 Flares
0 Flares
×
New to little Indiana? Subscribe for free to my RSS feed. Thanks for stopping by!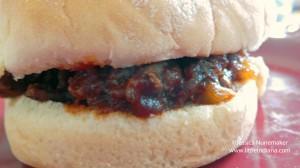 Sloppy Joes Recipe
Our oldest has been a huge fan of this Sloppy Joes Recipe for a very long time.
Found long ago on Food.com, my printed copy is now worn and splattered. That's always the mark of a keeper!
There have been times I've been out of one ingredient or another and the sloppy joes have still turned out just fine. But do keep in the celery. It's a nice extra!
Sloppy Joes Recipe
Print Sloppy Joe Recipe
Rating: 51
Prep Time: 10 minutes
Cook Time: 20 minutes
Total Time: 30 minutes
From Food.com
We love this Sloppy Joe's Recipe! It's so easy--and apparently it doubles very well.
Ingredients
1 lb Ground Beef
2 -3 Stalks Celery, Chopped
1 small Onion, Chopped
1 (8 Ounce) Can Tomato Sauce
1/4 Cup Ketchup
1/4 Cup Barbecue Sauce
1 Tablespoon Brown Sugar, Packed
1 teaspoon Dry Mustard
Salt and Pepper
1 Tablespoon Worcestershire Sauce
1 Tablespoon Vinegar
Instructions
In a large skillet, brown Ground Beef, Celery and Onion.
Drain.
Add in the rest of the ingredients. Simmer, covered, 15-20 minutes, stirring occasionally.
If the meat mixture isn't the thickness you desire, remove the lid and cook longer.
Serve.
Schema/Recipe SEO Data Markup by ZipList Recipe Plugin2.0
http://littleindiana.com/2013/07/sloppy-joes-recipe/
Photos are the Property of little Indiana. Do Not Use Without Permission.
pictures in Indiana
little Indiana Tumblr blog
Just don't forget to tell 'em that  little Indiana sent you!
Don't miss a moment. Subscribe to little Indiana and receive instant updates to stay on top of everything "little."
little Indiana: Where to Stay, Play, and Eat in Small Towns in Indiana. Discovering Indiana's best small towns! Now get little Indiana on your Kindle.
Targeted. Relevant. Affordable! little Indiana advertising.