Summer has unofficially started here. I would have thought that the kids would have been bored and expressing it by now, but so far so good. They have pulled all sorts of ideas out of their little crazed minds to entertain themselves. The funniest was using black plastic for a slip n slide and car wash to make it extra slippery.
Pey's football practice is gearing up to be in full force of five days a week, which pretty much eliminates any chance of him having a summer job this year. He hates that, but I enjoy it. Having him home one more summer is nice. Not to mention the extra set of hands is nice. He mowed and weedeated for me a couple days ago and that alone is a tremendous help.
My nieces from VA will be back this summer. I love having the extra estrogen in the house.
My laptop is deceased. I'm heartbroken. I'm hoping some things can be retrieved. The book I began several months ago will be lost if not. Among photos and documents that I should have backed up weeks ago when I first saw some issues with the computer. I seem to never learn from previous disasters such as this. Thankfully, I have my blog full of photos and all are not completely lost.
It's been a hairy few weeks here. No need for details at this time but we sure need some peaceful, healing, stress free thoughts our way. Details will come when I can find a way to address a few things without making the situation worse. I'm going to continue being true to myself and it'll all come out in the wash.
Eli is medication free this summer and doing fabulous. I discontinued the stimulant in hopes his appetite would improve and indeed it has. The first few days were challenging to say the least but as time marches on we are all adjusting well.
Memorial Day is right upon us and I hope each of you have a great weekend. As for us, we never really have given that day the respect it deserves. Maybe this year will be different. I may take the kids to visit the graves and place flowers on them. There is a season and a time for everything and the boys are much more mature now to handle many more emotional situations. Ill let y'all know how it goes. Happy little Friday!!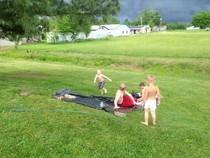 - Posted using BlogPress from my iPhone