I like wearing slippers- not those as of in 'days of olde' but velvet, plush, fur lined,zip-up, velcro-fastened or slip on with a good rubber sole.
   Winter time requires my ' Granny slippers' - lined with lambs wool, zipping up and covering my ankles. Summer sees me in a flimsier pair - a bit floppy and they 'click clack' as I walk - but not 'mules' as I'm not keen on those as they may cause an accident.
   I have 'campervan' slippers that are robust and cosy - able to withstand those walks to the toilet block and giving my weary walking-booted feet some luxury.
  For traveling I always purchase a new pair every few months. Now they must be a bit more discreet in navy or burgundy, so that I can come down to breakfast and walk around my room in them.
   I become somewhat attached to certain pairs and am loathe to discard them, so very often these end up coming camping......sort of like having  'home' on my feet.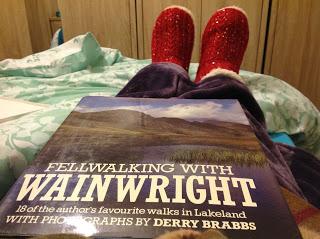 I Like Slippers
      Plush velvet embroidered cuff
      To fit my feet with comfort.
      Velcro-fastened secure enough
      Make me feel at home.
      Snails have shells - I have slippers.
      Blue or burgundy my usual choice.
      Worn at home or worn away-
      Instant ease for weary feet.
      A good sole for walking out
      Twixt kitchen and garden.
      Trusty warmth for my toes-
      A sigh when I don them.    
       T
hanks for reading, Kath
Email This
BlogThis!
Share to Twitter
Share to Facebook
Reactions: