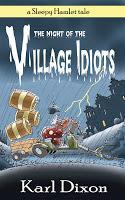 Click Image to go to Amazon page
This is going to be a short post as it's really more of an add with a new idea on the tail end.
Put simply---the ad bit that is---I will be publishing my first Sleepy Hamlet tale as a hard copy book. This will still be through Amazon and my e-book version will still be up for sale; and probably cheaper; because it is an e-book; and that's only fair, right? Right!
I'm not 100% sure when this will be, but I'm hoping to have it ready for purchase towards the end of this month. I will, of course, let you know here first.
I may also be looking to run a competition for a signed and illustrated copy of the book, but that may take a little longer than the launch, what with questions of print and delivery times not always keeping in sync with blog post dates and the best laid plans of mice and men; and all that.
But, like everything else, I will keep you informed when and where this will be happening.
But seeing as you are here, I've just finished the full wrap-around cover and for your delectation here it is.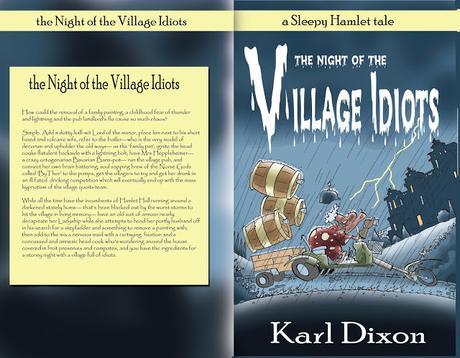 The new idea, coming to a Diary of a Cartoonist & Writer blog near you!
My second point is this: My Friday postings of late have all been about the process I went through creating a new comic strip idea for syndication to the big five US syndicates and this Friday will see the last one. The week after that I'll be talking about a new comic strip submission I'm working on but I wont be posting that until a few weeks from now. But what I will be doing is showing you a few panel snippets of the already completed strips.
But the week after, and this is what I really wanted to tell you about, will see the start of a
new
regular Friday feature; only this one wont be another cartoon, it will be the serialization of a short novella from Sleepy Hamlet.
I've been working hard on the second novel, which is called Siege Mentality and is planned for either a Christmas 2016 or an early January 2017 launch. I've also been producing short stories and mini novellas, all of which I hope to collect in one book and publish around June 2017.
But to give you a taster of these tales I've decided to serialize one, and I expect it to run over six to seven weeks, and to make it even more fun, I'll be illustrating each installment.
Now like I've said, I'm hoping to start this on
Friday 21 May
, but it might not actually begin until the following week---due to the fact that I'll be on holiday in-between and may not find the time to write my posts---but start it will, and that's a promise.
Anyway, you can always keep on coming back to see if its begun and if it hasn't there are literally hundred's of posts on this here site to help you while away the lonely hours, just waiting for the Sleepy Hamlet tale to start, or you can sign up to my email list and have alerts sent to your inbox as soon as they go live, just like so many of you are already doing.
And finally, if you would like to see what all the fuss is about, regarding Sleepy Hamlet, why not click on the cover image in the side bar, or the one at the top of this post, and go take a look.
So to summarise: If you like my writing, you like the countryside, have a romanticized image of the English countryside and don't mind your books been populated by nut-job countryside eccentrics, getting themselves into all manner of mischief and mayhem, then Sleepy Hamlets' Night of the village Idiots is going to be right up your street.