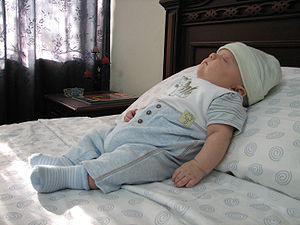 English: Sleeping baby boy (Photo credit: Wikipedia)
Sleep Training Technique – Attachment Parenting
Not only has Doctor Sears raised eight of his own children he has been involved in the paediatrics sector for over thirty years. While I find some of his methods rather bizarre I do agree to the principles behind them. I am not in agreement that I practice attachment parenting with my own children but in other ways I do see some similarities.
Attachment parenting is a style of caring for your infant that brings out the best in the baby and the best in the parents. Says Dr Sears
Attachment parenting focuses upon learning from your baby. It is believed that if we spend enough time watching and waiting and learning from our baby, we will soon know exactly what its needs are.
There was me thinking when it cried or wailed it wanted something. Can't say I ever learned what the hell they wanted? It was a case of thinking when were they last fed?, holding their bum to my nose for me to sniff them or walking around for hours patting their backs.
Dr Sears says that attachment parenting can be a huge benefit to bedtime battles with your baby. If we have routine and have calmed and relaxed our baby during the day, then night time will be easy? Dr Sears also advises we feed on demand and sleep close to our baby too. Not forgetting that it is recommended that we also practice baby wearing.
OK so hold on a minute.
You want me to feed on demand? Well my health visitor advised me to make baby wait that little while longer in between feeds to get them into a better routine. Cameron was feeding every 2 hours from me and I was exhausted. I used to distract him and put off feeding him for as long as he would allow. Within a few days rather than feeding every 2 hours it became every 4 hours and then finally a more acceptable every 6 hours. At a few months old I don't need to drop everything and run to them, they are not going to starve while I finish the washing up.
The sleep lesson taught in the Sears' The Baby Book, is "Babies need to be parented to sleep, not just put to sleep."
Why do I want to sit there and watch and learn the sleep stages my baby goes through? Trust me once my baby is asleep I have a hundred and one things that I need to do. I don't want to watch them sleep; I just want them to sleep.
Yes I agree a well prepared baby is a better baby to get to sleep and I follow a regular bedtime routine. But I don't want to climb into my babies bed nor do I want them in my bed. I also don't agree that we should rock our babies to sleep, quite the opposite I believe we should teach our babies how to fall asleep without us.
… When the time comes, your baby will wean from your bed just like all the other weanings." Says Doctor Sears
What are your views on Doctor Sears Sleep Training Technique – Attachment Parenting?