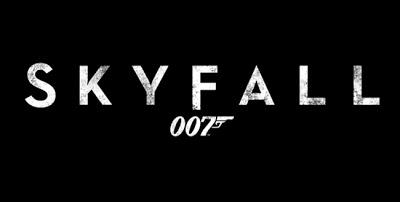 Director:  Sam Mendes Cast:        Daniel Craig, Javier Bardem,                Judi Dench, Berenice Marlohe (For the full list click here!)

Bond is a British icon who seems to be getting better with age. I must say that the latest episode in the bond saga does not dissapoint and is a considerable improvement on the last slightly underwhelming performance.

Plot
The worst terrorist attack since 07/11 to hit London, but who's to blame!?
The story follows bonds battle against the rogue agent named Silva, who seeks to settle his vendetta against M and MI6 for their apparent betrayal. In this film as oppose to previous bond episodes, there seems to be a greater emphasis on the interplay between Bond and MI6. This is a fortunate development from previous films which usually show bond briefed on the situation and then sent off on an adventure; only to return at the end to be debriefed and told of his success.

Acting
While I still feel Daniel Craig is not the most swarve or sophisticated bond ever, he still really brings a lot of energy and grit to these films which prior bonds found it quite difficult to do. Luckily, Sam Mendes has tried to maintain some feeling of the classic Ian Fleming character as SkyFall is riddled with witty one liners and lots of light hearted conversation. I feel these elements coupled with the fact that for a majority of the film, we are re-tracing bonds routes really helps aid the development of a much softer human side to the James Bond Character.
Other actors of note would be the the excellent Javier Bardem; he played his role as the villainous and slightly camp Agent with real vigor and enthusiasm. Although It was a really strong cast of actors all over,  I would say that Berenice Marlohe (Severine, the main Bond girl) deserves a mention as she brought a complex and diverse character to life and I really enjoyed watching her develop through out the film.

Good Points
Hey its James Bond, So you would be wrong to not expect at least some explosive, edge of the seat action and this film has it in spades. The narrative between the action sequences is also imperative to the story line and does not in any way feel like unnecessary padding.
As I have already mentioned the acting across the board in this film was extraordinary. Everybody is believable and thoroughly entertaining. The villains were particularly fearful.
I would say that there is a  really strong emphasis on story telling in this film especially in relation to the last one. Having bond overcoming his demons and retracing his roots, whilst also, digging up old agents begrudged by the way they have been treated during their time at MI6, makes for a truly compelling blend of action and storytelling.

Points for improvements
I wouldn't say their were many however the one thing that stuck out was the overt use of the witty one liners. I realize that it is bond tradition to finish a big sequence with a pithy short line, however I think they used them a little to regularly through out the film. This tended to irritate me most at points in which the film was trying to build tension.

Summary
All in all though a truly epic bond film, I would summarize Sky Fall by saying it is nearly as good as Casino  Royale and so much better than Quantum of Solace. In addition to this review I would highly recommend you take a look at the new Adele single in relation to this film named Sky Fall I think it is a great song and beautifully performed.
You can purchase it at amazon with the link below!                 
 __________________________________
Another Film you should really look at!
Bond is back and as thrilling as ever, with Daniel Craig as the new face of our charming spy the bond series has never been better!