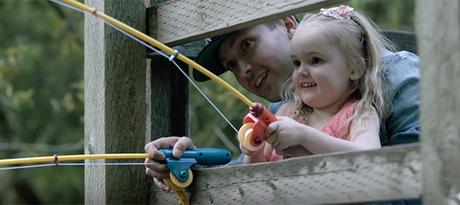 Dallas Smith has found the perfect way to celebrate Father's Day with the release of his new video for Sky Stays This Blue. The video shares his life at home with his 3-year-old daughter Vayda and gives us a glimpse into some cherished, love filled moments.
" This video means everything to me," shares Smith. "Vayda is going to have this memory for the rest of her life as a reminder of how much she's loved and I will cherish the moments we captured forever."
Hit play now and watch Smith's new video for Sky Stays This Blue.
Dallas Smith is riding a wave of success, in April he hit #1 at Canadian Country Radio for the third time, and his 2016 release, Side Effects became his second consecutive chart-topping album. Dallas also holds the record for being the 1st Canadian male Country artist* to have three #1 songs and he's the ONLY Canadian male Country artist to have two consecutive #1 singles. He's the first Canadian Country artist to have back to back #1 singles since Shania Twain in 1997/1998.
We've been fans since the release of his first country album, Jumped Right In and we're thrilled about his success.
Smith is currently planning a cross-Canada tour for 2017 but in the meantime, he's got some dates already set. For current tour dates check out dallassmithmusic.com.

About Trish Cassling
Writer/Photographer/Editor If you have any questions or are interested in working together you can reach me at trish@thereviewsarein.com. Follow me on my personal Twitter account or my Instagram account - @trishca. View all posts by Trish Cassling