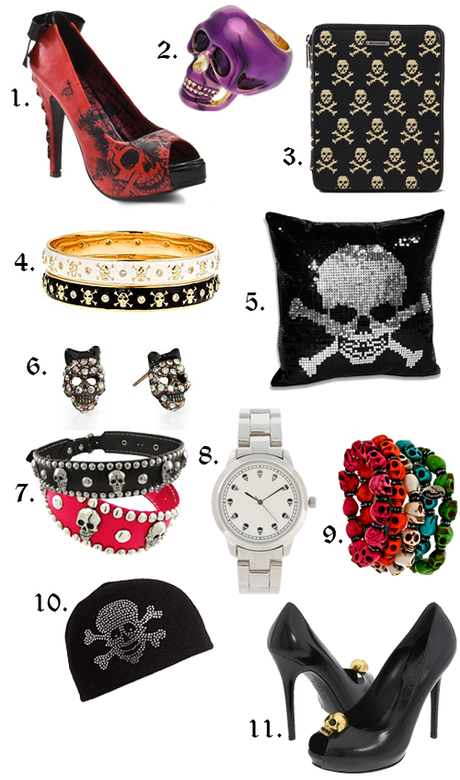 My style really isn't Goth. I'm sure that comes as a surprise to ... well, no one. But lately I've been lusting for skulls. I want to put them on pretty much everything -- including my pets. And with Halloween just around the corner, my obsession couldn't have been timed more perfectly.
American Nightmare Platform by Iron Fist ($49.99) Skulls and bows make these crimson shoes totally badass.
Purple Skull Ring (About $16) Love the bright purple color and the clearly-defined skull face on this ring.
Skull iPad Case by Rebecca Minkoff ($129) Because why not cover your iPad in skulls?(And Rebecca Minkoff?)
Lauren G. Adams Mini Skull Bangle ($40 each) Delicate and subtle, these bracelets are appropriate in almost any situation.
Sequin Skull and Crossbone Pillow ($28.99) I would have a tough time deciding which room to put this ridiculously shiny pillow in.
Small Crystal Skull Stud Earrings by Betsey Johnson ($30) While these bow-wearing skulls are kind of creepy -- check out those faces -- they're still pretty damn awesome.
Black and Hot Pink Leather Skull Studded dog collars ($29.99 and $34.99) Little Greg and Peggy Sue are already the most stylish dogs on the block (naturally) but these collars would bring them to a whole new level.
Metal Boyfriend Style Watch with Skull Markings (About $37) Not sure if you can see it from this image but instead of numbers, this watch face has silver skulls. Amazing.
Skull Beaded Bracelet by Bee Charming ($55 each) These bracelets are so whimsical -- I love how they look stacked together.
Skull Hat by Helene Berman (About $78) A glittery skull to keep your, umm, skull warm. (Couldn't resist.)
Black Skull Pump by Alexander McQueen ($845) Naturally you can't talk skulls without mentioning Alexander McQueen, and I believe these black pumps are a major cause of my addiction.