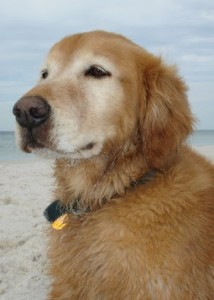 We talked about getting a dog for years. We could never decide on a breed–should we get a hypoallergenic dog in deference to my father's allergies? Should we get a lapdog to carry around? Should we get something fierce to protect our corner of suburbia? The discussion raged on, but we could always decide on the name: Fang.
In 1998, we decided to bite the bullet. Friends of ours volunteered with a Golden Retriever rescue organization and found what they deemed "the perfect dog" for our family. My parents met him, decided they liked him, and brought him home.
This dog was, in a word, pathetic. He walked with a limp. When we tried to pet him, he cowered away. And he never, ever barked. He was not a "Fang." So we named him Skippy.
We suspect that Skippy was abused in his old home. We don't know. His behavior indicated as such, and he spent the first few weeks with us hiding in a corner of the laundry room.
Three weeks after bringing Skippy home, we celebrated my birthday. The evening prior to the party, my mother and I prepared our backyard for the influx of guests. We set up folding tables in the garage, cleaned the pool, and filled the tiki torches. As a final touch, we threw a decorative scarf over the back porch light, flicked it on, and ran off to tend to other tasks.
At five the next morning, we heard frantic barking. Alarmed, we jumped out of bed and ran outside. Skippy never barked; therefore, this must be an emergency.
Our watchdog, with a jaunty red handkerchief tied around his neck, was barking ferociously at the back porch light. We turned to see smoke curling from underneath the forgotten scarf, then a delicate flame licking at the edges of a small hole burned in the silk. My mother whipped off the scarf and stamped out the flame as I stared in amazement at the dog. He sat there proudly, chest out, hips slightly askew. Our cowardly puppy had just saved our house from burning down. He was now a wonderdog.
From then on, Skippy became an integral part of our lives. He greeted me every day after school with a wagging tail and a sloppy grin. He fetched the paper in the mornings, and later, learned to ferry spelling lists during quiz time. He gave me a sad, wet kiss when I left for college, and jumped on me excitedly when I returned. He judged my then-boyfriend harshly upon meeting him, and gave his gentle, silent approval when we got married.
In 2008, Skippy had emergency surgery for water on his lungs. The operation wasn't enough. Early the next morning, with a final, rattling breath, he died on my parents' bedroom floor.
His ashes are now buried by the lake underneath a tall beech tree. His final resting place is marked with a large, unadorned river rock. To visitors, it's nothing more than a piece of stone turned out of the earth, but to us, it's a reminder of the companion that we had and will one day see again.
Lynn Daue is a freelance writer, blogger, and mother of three. She can be found online at http://rhymeswithtao.blogspot.com.