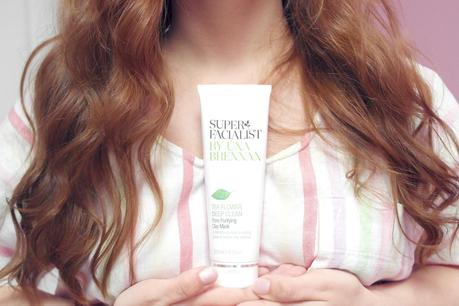 ... And the award for the longest name for a face mask in history goes to the Una Brennan Superfacialist Tea Flower Deep Clean Pore Purifying Clay Mask. The third in line of face masks that I have tried and absolutely adored. Having rather dry skin, I tended to stay clear from clay masks as I thought that they would dry out my skin further and I am so pleased to say that with this particular mask, that wasn't the case.
Packed with the gem that is salicylic acid, this mask is a real treat if you need to clear your skin of all the nasty things that can reside there. It is one of those products that I could immediately tell a difference in not only the appearance, but the texture of my skin after using. You simply apply a generous amount around your face and the clay mask begins to harden - which makes it hard to move, no eyebrow raises or anything! The instructions recommend leaving it for five minutes, but I prefer to leave it on for ten and then remove with a warm flannel. It leaves the skin feeling nourished, soft to the touch and looking extremely healthy. It certainly aids in reducing the appearance of blemishes too.
For an amazing price of £8.99 I think I will be repurchasing this once I've ran out. I tend to use it around once a week so I'm hoping it will last for a while. Let me know in the comments if you are a fan of clay masks and if you've tried this one! Thanks for reading.

Facebook 
 - 
Twitter
 - Instagram - 
Bloglovin
 - 
Youtube
Check out my May Advertiser - GianniC