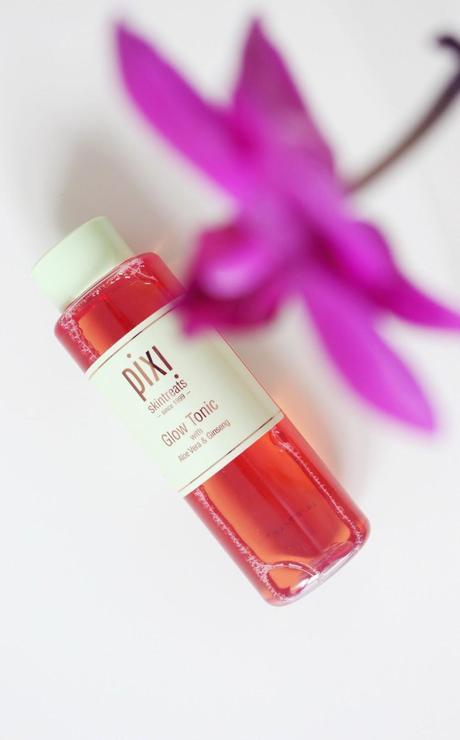 It's no secret that the Pixi Glow Tonic is one of the most well-loved toners out there, with people queuing up to stock up on the orange-soda looking liquid. Let's see if it's as good as people say...
So the Pixi Glow Tonic is not as inaccessible as it used to be, despite their London store you can pick it up on the Pixi Website and the Liberty Website. So it is essentially a toning liquid, meant to not only exfoliate and remove dead skin cells but to brighten and add glow to the skin too. There is no alcohol present so you don't go through any awkward stinging sensations and instead contains aloe vera which is a lot more gentle on the skin. Such gentle ingredients mean that it is okay to use for sensitive skin too, as if something is too harsh, my skin is the first to know about it! This really surprised me as I totally expected something like this to sting, so a really pleasant surprise indeed.
When I first started using this I actually thought it had caused an irritation on my skin so I stopped using it for a while. However, the irritation persisted so I knew that it wasn't this so I decided to give it another try right at the beginning of 2015. I have been saturating a single cotton pad with on a night and swiping across my skin in outward motions after I have cleansed. Although it is not the type of product where you see a difference immediately (what products do that really?) after using it for a  couple of weeks consecutively now I have definitely noticed a certain brightness to my skin. I am not certain if this product is supposed to help with blemishes and evening out skin tone too, but I also feel that this is assisting in that as well. Did I mention this smells like a dream too? Bonus points given!
So the cult beauty must-have gets a thumbs up for me after some initial trials and tribulations. Let me know in the comments below whether you have tried the famous Pixi Glow Tonic and what your thoughts on it are? Thumbs up? Or thumbs down? Thanks for reading!


Facebook  - Twitter - Instagram - Bloglovin - Youtube


Check

 out my February Advertiser - Beautrina!!