I don't know if anyone is interested in knowing a little more about me, well too late you are going too since you are reading this post.  The reason why i didn't post anything between 2015 and early 2016 is because i was pregnant and afterwards taking care of a baby after April 2015.  The one thing that i will say is that having a baby can CHANGE your skin!!!  The most noticeable change that i have seen after this year is that my skin is more drier than before and more sensitive.  Not that my skin is dry now, but in comparison to before, i noticed less oil around my t-zone and every where else is more drier too.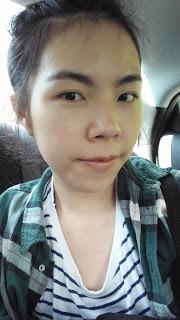 (Me without BB cream or foundation)
Another huge change is that before i would get serious hormonal acne around my chin and mouth area, this has cleared up after this year.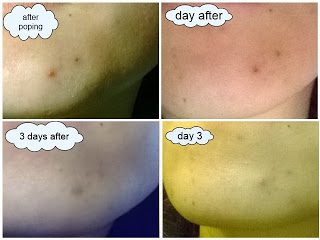 Before i would see constant acne/pimple forming one after another (there would be no break, every week i would get a pimple or two, it was frustrating no matter what product i used and nothing help, it was hormonal after all, so actually any skincare didn't help).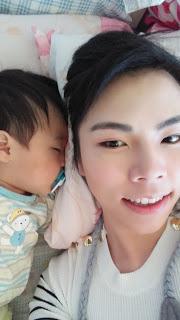 Now that i have a toddler, spending time on my skincare routine has to be fast!  When you have a child clinging to your leg or snooping around the toilet (just waiting for you to look away, so he can lift up the toilet seat and reach his hand in) you want to finish up your skincare routine as fast as possible, believe me ;P  So the products that I am currently interested in are the all-in-one or the really effective products.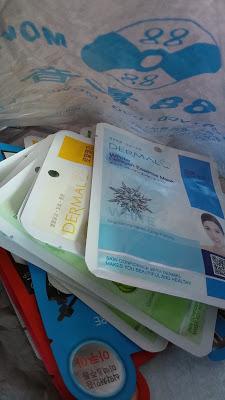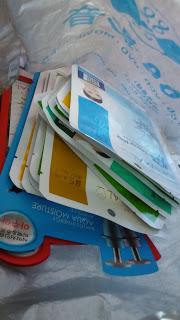 Also, something new that I have been doing that I think has improved my skin a lot is on weekdays (Monday to Friday, or at least the days that I go to work) I will put on a sheet mask when I'm in the car going to work.  Because my husband drives and the time required for me to go from home to work is about 30-50 mins, I fully use this time and put on a sheet mask.  Most sheet masks says they should only be use around 20 to 30 mins, but I think most of the sheet masks has lots of essences in them, so I usually leave it for more than 30 mins, max 45 mins.  I swear everyday that I use the sheet mask, my skin is glowing afterward (and that's without any BB cream or foundation too)!!!  But the effect doesn't last long, usually the glowing effect is gone by the end of day and it transform to oil (eewwww... right?)
I brought a lot of sheet mask because I used up so many now and because I am using them almost daily.  I tend to buy the cheap sheet masks just because they are used daily so I don't want to spend a fortune on them.  I have brought lots of the Korean Collagen sheet mask with lots of varieties.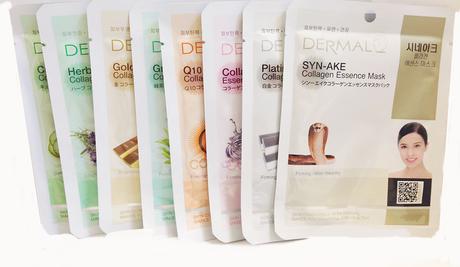 My favourites are the cucumber, green tea, and aloe one.  They are simple and yet hydrating.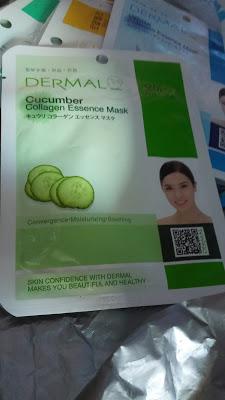 I am more hesistant to use the none standard one such as snake-syn, horse oil, milk, etc. they sound interesting to me and I have brought one of each just to try, however the majority of mask that I brought was the cucumber, aloe, green tea, honey. I think I have a total of more than 40 sheet mask from this brand of Collagen masks. One interesting favor that I have to mention is the Red Ginseng one, it smells just like the Red Ginseng and the scent is so long lasting, even after days that I have opened up the packaging, I would still smell it. I think Red Ginseng smells pretty good, and if you are like me, then you will like Red Ginseng sheet mask too :)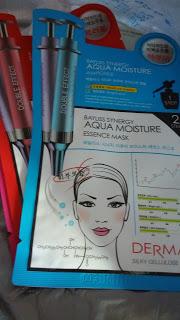 The masks that you see above if only a small portion of the masks that I have, I will review each brand when I have time. Or if anyone is super anxious about what other masks I have or what I think is the best sheet mask that I have tried, then leave a comment or message me, it's because I never receive any comments or message, I don't even know if anyone is reading this (*tear-drop* and yet I'm still writing.. haha)