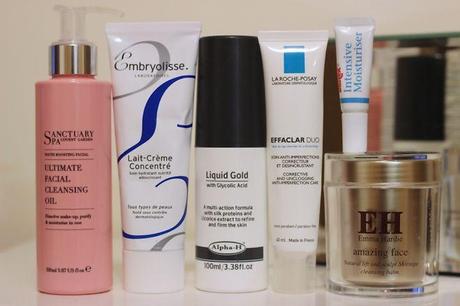 The problem with skincare and I is that I am always striving for the perfect product. Theres an obvious pattern when it comes to skincare and that is that I like to try a multitude of products and if if doesn't meet my expectations then its quickly thrown into the depths of a cupboard somewhere. You see I get bored easily and often if I don't see immediate results I give up. I know naughty me. But if I like a product then it usually sticks around for sometime. So heres the low down on my favorite products at the moment. 
My ultimate time to indulge in skincare goodies is before bed. In the morning A. I am too tired and B. I am usually in a rush which mean extreme cleansing goes out the window in favour of a quick cleanse and slap on of some serum. My current favorite being Drops of Youth by The Body Shop. You can read my whole spiel on that here.
So what comes out at nighttime then? I don't tend to wear heavy makeup during the day but I do like a little concealer, tinted moisturiser, bronzer, blusher, mascara and if I am feeling brave a sweep of eyeshadow. Sounds a lot but I promise this is a 5 minute face :-) Taking the Lisa Eldridge approach I like to double cleanse. Firstly I use The Sanctuary Ultimate Facial Cleansing Oil. One pump applied to a dry face literally melts away all traces of makeup including waterproof mascara which is a must for me as I only ever wear waterproof. I then use cotton wool pads to literally wipe it away, I tend to stick to the larger pads. One of these does the trick. With the smaller pads I usually need a couple. A top tip is to do your face first and then your eyes to avoid smearing mascara all over your face. Not a good look. Next up is the ultimate blogger favorite at the moment Emma Hardie Cleansing Balm which is an absolute dream to use. It applies like a balm which turns to almost an oil like texture when applied to the face and leaves my skin feeling ridiculously clean without the tightness. It has a rather unique aroma, which I would say is definitely a grower. I turned my nose up at first but now I bloomin' love it and genuinely look forward to using this of an evening. If I am feeling particularly lazy I will just use this and not bother with the oil as it does a good job of removing makeup. To remove it I use a good old flannel soaked in hot water to really work those pores. After cleansing and drying my face out comes the  Alpha H Liquid Gold. It has to be said that this is not something I use every single night just when my skin is feeling a bit meh and needs that little something something. My pores tend to clog easily (gross) and this just helps tighten them and generally give my skin a little glow the next day. Something I have been slapping on recently is the La Roche Pose Effaclar Duo. This is almost a serum which soaks into the skin almost immediately. It helps keep those pesky pimples at bay and I have definitely seen an improvement in the overall look and feel of my skin. If you need to add anything to your shopping list then this is it. Finally if my skin is feeling a little on the dryer side of the spectrum then I will rub in a small amount of Embryolisse. This is something I picked up in Paris so I am not sure if you can get it over here so easily but if you ever get the chance then I highly recommend  Its definitely a light to medium moisturiser but it does the business. Finally a slick of my trusted Blistex intense and I am good for bed.