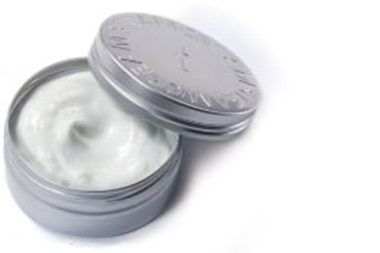 A multipurpose cream uniquely formulated using pure, unrefined steam for maximum absorption.
High quality skincare for all skin-types
Locally produced using fresh, natural and traceable ingredients.
Funky eco-friendly packaging designed in Japan and decorated with limited edition collectible designs.
Handy-sized tin for on-the-go lifestyles at an affordable price.
Each design is run as a LIMITED EDITION print, giving STEAMCREAM an ever-fresh and changing image. Once sold out it provides a uniquely collectible piece of art.
Current graphics designed by hip Tokyo-based artist Takayuki Totsuka
STEAMCREAM represents the latest concept in skincare. Using a revolutionary steam-infused manufacturing process, STEAMCREAM provides a long-lasting, intensive and effective form of skincare that can be used on face, body and hands.
STEAMCREAM have pioneered the use of a steam technique to create this unique, gentle and loosely-bound emulsion. This looseness allows each ingredient – including a moisturising and soothing oatmeal infusion, orange flower water and healing lavender oil – to breakdown and penetrate areas of the skin that other creams find hard to reach.
Packaged in a compact, flush-lid aluminium tin featuring unique and collectable designs, STEAMCREAM is a perfect on-the-go product – convenient to slip into your bag, take to work, to school, on holidays or to the gym. And it's hand luggage friendly at just 75g!
Available from selected stockists and online @ Steam Cream
Steam has been recognised for its benefits to skincare for centuries. Which is why we put pure, unrefined steam directly into our cream.
The result is a soft, luxuriant and glossy cream. STEAMCREAM breaks down immediately on contact with the skin to disperse each ingredient directly to the areas they're designed to benefit.
How the steam process works.
The power and energy produced by bubbling steam melts and fuses the ingredients together at a speed that defies most traditional cream-making methods.
The force and intensity allow the ingredients to emulsify instantly, producing this beautifully textured light and glossy cream.
The emulsion is held together very loosely and gently, allowing the cream to break down immediately on contact with the skin for maximum benefit.
STEAMCREAM refreshes areas of the skin that other creams find hard to reach.
In most creams, the emulsifying process is what holds the ingredients tightly together. It can also stop creams breaking down.
Because of this, each ingredient struggles to enter the skin individually. It stays as a blend, moisturising the skin's surface yet preventing its real benefits from reaching deep into the skin's molecular structure.
STEAMCREAM creates a cream that forms a gentle and loose emulsion. This looseness allows each ingredient to break back down to its purest form, penetrating the skin where needed.
The orange flower water, oatmeal infusion and glycerine hydrate and moisturise deep into the skin. The almond and organic jojoba oils combine with cocoa butter to seal in their goodness, softening the skin's surface.
The process is topped off with a fragrance created from a natural blend of pure essential oils selected for their toning, soothing and healing qualities.
Simple Quality Skincare for Face, Body & Hands
Oatmeal infusion
Oats are the gentlest of cereals. They are renowned for their moisturising and soothing effects, especially for dry skin conditions. When steeped in water to form an infusion, they release a soothing milk - the main ingredient in the cream.
Almond Oil
Contains high levels of vitamin E and is considered to be the finest vegetable oil for the skin. Softening and easily absorbed, it helps condition the skin to minimize moisture loss and keep it plump, radiant and healthy.
Glycerine
Helps the skin to absorb moisture and carries the other water-based ingredients into the skin. A traditional ingredient used in cosmetics for many years.
Lavender Oil
With its unique healing properties, lavender contains antiseptic components and can help to reduce inflamed or sore skin.
Orange Flower Water
A floral water made with pure Orange Flower Absolute. Orange Flower helps to improve the elasticity of the skin and is particularly beneficial for dry, mature and sensitive skin.
Cocoa Butter
Softening and gives a glossy sheen on the surface of the skin. Helps create the rich texture of the cream with its magical, emulsifying qualities.
Organic Jojoba Oil
Described as a liquid wax, our cold-pressed organic Jojoba oil is the lightest vegetable oil. Combined with almond oil, it helps create an easily-absorbed cream,which is light and non-greasy.
Perfume
A natural blend of pure essential oils that are extremely effective on the skin. The blend includes Orange Blossom Absolute, Neroli Oil and healing Camomile Blue Oil. Rose Absolute, an up-lifting oil also adds toning and soothing qualities. The other essential oils used in the perfume blend are our little secret!
Effects and Benefits
Gives a noticeable effect that can be felt on the skin.
If used regularly improves the appearance and softness of the skin.
Light & easily absorbed.
Noticeably softens and nourishes all skin types.
Encourages your skin to be the best it can.
Quantitive Ingredient (QI) List
Oatmeal Infusion (Avena sativa), Orange Flower Water (Citrus Aurantium amara, Aqua), Almond Oil (Prunus dulcis), Cocoa Butter (Theobroma cacao), Glycerine, Stearic Acid, Triethanolamine, Organic Jojoba Oil (Simmondsia chinensis), Lavender Oil (Lavandula augustifolia), Chamomile Blue Oil (Matricaria Chamomilla), Orange Blossom Absolute (Citrus Aurantium dulcis), Rose Absolute (Rosa damascena), Neroli Oil (Citrus Aurantium amara), Cetyl Stearyl Alcohol, *Coumarin, *Geraniol, *Citronellol, * Limonene, *Linalool, Perfume, Methylparaben, Propylparaben. *Occurs naturally in essential oils